This Is Our Youth's Tavi Gevinson and Kieran Culkin talk '80s New York, Wrestlemania and backstage shenanigans
Don't let their steely gazes fool you—This Is Our Youth costars Tavi Gevinson and Kieran Culkin can totally get goofy
By Matthew Love Fri Aug 22 2014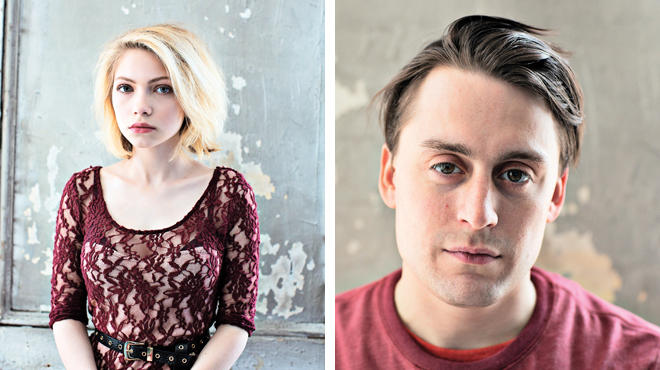 Tavi Gevinson and Keiran Culkin from This Is Our Youth Photograph: Brigitte Lacombe

Fashion blogger-turned-indie starlet Tavi Gevinson is only a teen and has already acted alongside Kathy Bates, James Gandolfini and Toni Collette. (It's no surprise that she's been featured in Forbes 30 Under 30 list.) Now she's poised to appear onstage in the Broadway premiere of Kenneth Lonergan's 1996 play This is Our Youth, with Michael Cera and Kieran Culkin—another child talent-turned-indie hotshot (Igby Goes Down, Scott Pilgrim).

Time Out New York: Have you been warned about the grueling Broadway schedule?
Tavi Gevinson: When we had our opening night in Chicago, I was talking to this man who said, "However insane it is now, it'll only get worse." I was like, "Oh, so it'll just be more insane?" "No, no," he said, "The expectations, the pressure, the misery, the suffering…"
Kieran Culkin: "You lose loved ones; your cat will die…" And at the end, you'll go too.
Gevinson: Yeah, it'll be our swan song.

This Is Our Youth is set in early-'80s New York. Is there something you'd want to go back and see or do in the city at that time?
Gevinson: I was just talking to some friends about this yesterday. As much as I like to romanticize, "Ah, the Factory," or whatever, there were also so many things that were horrible and unsafe. You would have been mugged so much more.
Culkin: I was around for it, but I was a little kid, so '80s New York means going home and watching Thundercats. I would just like to go back and relive all the Ultimate Warrior–versus–Randy Savage moments of my childhood.

What's your favorite WWF match of the period?
Culkin: The Ultimate Warrior versus Hulk Hogan, Wrestlemania VI, but that was technically 1990.
Gevinson: Oh, my God.
Culkin: So if I had to pick an '80s moment, I'd have to go back into the catalog.

Kieran, you're 31 now. How much longer do you think you can play these 20-year-old characters?
Culkin: For years, I kept saying, "I'm getting too old," and [playwright Kenneth Lonergan] keeps telling me I'm not. This production was supposed to happen last year, and I remember telling Kenny, "I'm fucking 30. This has got to be the cap-off." This time, I said, "If you swear, if you look me in the eyes and tell me I'm not too old to play this part, I'll believe you." I'm not going to say no to it just because I think I'm too old.

What did you and Michael Cera do to haze Tavi into her first big stage production?
Culkin: Tavi, did we do anything?
Gevinson: Buffalo.
Culkin: Oh, yeah. You explain Buffalo to him since you're the newb.
Gevinson: [Sighs] Okay, Buffalo is where if you're holding an open-top beverage in your right hand [and someone calls out, "Buffalo!"] you have to chug it. Now I drink with my left hand, and it's really weird.

So how many times have you been Buffalo'ed?
Culkin: She's hard to get.
Gevinson: I got Kieran with a hot cup of coffee. It was great!
Culkin: I was picking up the mug with my right hand to get a little coffee that I'd spilled with my left, and she got me in that two-second period. It sucked.
Gevinson: I'm always watching.

Attention to detail. The hallmark of a great actor.
Gevinson: Yeah, it's definitely an acting exercise and not a dumb drinking game.

This Is Our Youth opens September 11, 2014.
See the show
Price band: 3/4
Critics choice
Kenneth Lonergan's 1996 breakout play about a couple of late adolescents mixed up in stolen money and cocaine gets a belated Broadway debut, courtesy of Steppenwolf Theatre Company. The formidable Anna D. Shapiro directs Michael Cera, Kieran Culkin and Tavi Gavinson in the slacker drama.
---
---