101 things to do in New York City in the fall 2013
Clear your schedule: Our fall calendar of things to do in New York—festivals, parades, shows, new activities and more—will fill your planner through November.
By Time Out editors, edited by Jonathan Shannon Thu Sep 5 2013
Photograph: © Art Spiegelman
91. Check out the retrospective "Art Spiegelman's Co-Mix: A Retrospective," one of the best things to do in New York this fall
Spiegelman, who did more than anyone to legitimize the graphic novel with his Holocaust-themed classic, Maus, gets the retrospective treatment, with a survey that includes hundreds of original drawings spanning his groundbreaking career, from his late-1960s days as part of the underground comix movement to his work on some of The New Yorker's most compelling and controversial covers.
Price band: 3/4
Critics choice
Sure it's easy to laugh at the Eagles; the arrangements are slicker than an otter in olive oil, the four-part harmonies scarily perfect, and the smiles dazzlingly white. But can you truthfully say that the sprawling, lysergic fantasy that is "Hotel California" has never had you air-guitaring on your knees? Nor has "Desperado" had you weeping in your beer? Pull on your best denim shirt and surrender to the noncool, mighty power of these Cali legends, whose current tour—including principals Glenn Frey, Don Henley, Joe Walsh and Timothy B. Schmit, as well as founding guitarist Bernie Leadon—arrives on the heels of a sprawling documentary, History of the Eagles.
Price band: 1/4
Critics choice
The phrase more money, more problems would not have sat well with upper-class early-20th-century New Yorkers, who flaunted their wealth in the form of jewelry, furs and elaborate houses. This exhibit, the first in the newly christened Tiffany & Co. Foundation Jewelry Gallery, displays 100 glamorous costumes, portraits and household objects, including a silver-gilt place setting and an "Electric Light" dress owned by the Vanderbilt family, John D. Rockefeller's luxe toiletry set, and loads of diamond, gold and platinum bling.
The Parisian womenswear designer lends her edgy, bohemian aesthetic to the Swedish chain through this limited-edition collection, inspired by her eponymous line. While the prospect of being able to nab Marant's trendsetting wedge sneakers for a fraction of the usual cost is exciting enough, the partnership also marks her debut foray into men's clothing. Details are scant, but a first look released via H&M's Twitter account revealed a printed slouchy dress and fringed booties with conical heels, in Marant's signature neutral hues. Visit hm.com.
H&M, locations throughout the city
Available Thu Nov 14
95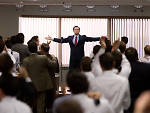 Film: The Wolf of Wall Street
Who wants a Goodfellas set in world of finance? Judging from its amazing, amped-up trailer, that's exactly what we'll get with Martin Scorsese's blistering take on Jordan Belfort's book about the rise and fall of a shady stock-market hotshot (Leonardo DiCaprio, of course)—and we could not be more psyched. Bring it, Marty!
Price band: 4/4
Critics choice
Recently minted Broadway star Jessie Mueller finally gets a vehicle specially crafted for her gorgeous voice and her innate warmth. She plays the great singer-songwriter Carole King in a retrospective about King's early life and career. Playwright Douglas McGrath provides the book.
The Milliners Guild hosts an annual homage to St. Catherine, the patron saint of hatmakers, with a promenade through midtown. In previous years, up to 50 guild members, clients and hat aficionados, wearing a variety of handcrafted toppers such as fascinators, cloches and chapeaus, gather at the Millinery Center Synagogue for the rabbi to bless the parade. From there, the group strolls to Bryant Park to mill about (geddit?) and pose for photos before heading to Grand Central Terminal. All are welcome—the only stipulation being you must wear a hat. Just don't try to pass muster in your snapback.
98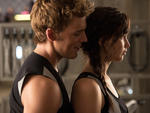 Film: The Hunger Games: Catching Fire
We missed you, Katniss: Jennifer Lawrence has, since the first installment, won an Oscar and cornered the talk-show market on lovable rawness. Now she returns to her already-iconic role, and, fortunately for the actor, Suzanne Collins's second book gets a whole lot more serious.
Price band: 2/4
Critics choice
Born in 1948, Isa Genzken is one of the most prominent figures within the postwar generation of German artists, and among the most influential female artists working today. If New York art audiences are familiar with her output at all, it's been probably via the works she has produced during past ten years or so, which have mainly consisted of surreal sculptural assemblages and installations that vividly aggregate painting, found objects (toys, strollers, suitcases, backpacks, dolls, wheelchairs, umbrellas and houseplants among them), images, fabrics, textiles and other materials, such as colored streamers, Mylar sheets and tinted Plexiglas. Her best-known work here is probably the gigantic rose she created for the New Museum's facade. Prolific as she's been in recent years, this production only scratches the surface of a four-decade career that has taken a sharply incisive, postfeminist perspective on our globalist society and the way that culture functions within it.
This pre–Turkey Day ritual, held near the American Museum of Natural History, has become almost as crowded as the Macy's Thanksgiving Day Parade, but we prefer it to the main event. Why? We prefer to weave through the crowds, walking past the inflation stations to see Kermit the Frog, Julius the Paul Frank monkey, Sonic the Hedgehog, Buzz Lightyear et al. at our own pace. Arrive later in the evening, when the gigantic characters have taken shape; the crowds are at their peak, so you can also show off the famed New York sidewalk shuffle. Enter at W 79th St at Columbus Ave.
For the 87th year, the Macy's Thanksgiving Day Parade will usher in the holiday season with familiar sights like giant balloons, high-kicking Rockettes and Santa's sleigh, plus celebrity appearances. Begins at W 77th St and Central Park West; for the complete parade route visit macys.com/parade.
---
Events calendar for New York City
This Caribbean celebration, known for having livel...

The saucy and feisty dance from Latin America come...

Head to Queens for a pseudo getaway at this nature...
108

more events »
Time Out videos
---
---