101 things to do in New York City in the fall 2013
Clear your schedule: Our fall calendar of things to do in New York—festivals, parades, shows, new activities and more—will fill your planner through November.
By Time Out editors, edited by Jonathan Shannon Thu Sep 5 2013
Photograph: Brigitte Lacombe
41. Watch Daniel Craig and Rachel Weisz tackle Harold Pinter's Betrayal, one of the best things to do in New York in the fall
Based on his own infidelity, Harold Pinter's 1978 play runs backward—starting with the aftermath of a failed marriage and ending with its promising start. Guiding us through the triangulated chronology are Daniel Craig and Rachel Weisz, doing the art-imitating-life thing by playing spouses. Rafe Spall is the homewrecker in this revival staged by the great Mike Nichols.
Price band: 2/4
Critics choice
The New Mu gives over its entire building to this first major New York survey of legendary L.A. artist Chris Burden, who emerged in the early 1970s as the enfant terrible of performance art. He had himself shot in the arm, for example, and once used the back of VW bug as the cross for his self-crucifixion. Over the ensuing decades, he moved into creating complicated sculptural objects and installations, such as a built-from-scratch automobile and a toy-model metropolis, featuring miniature freeways teeming with tiny cars zipping by at breakneck speeds. This show covers it all, offering New Yorkers a rare comprehensive look at one of the most innovative artists of the past 40 years.
A massive multidisciplinary arts and media complex is headed for Downtown Brooklyn, spearheaded by local art nonprofit BRIC. The 40,000-square-foot BRIC House will feature a contemporary art gallery, a performance space, a glass-walled television studio, a work and performance studio, and a café. Planned events include a monthly House Parties dance-party series, a drop-in free lecture and storytelling Stoop series, and several artist residency programs. To celebrate the opening, BRIC's offering three days of free programming on its first weekend, including a block party with food trucks, Artist Parade, a multimedia installation by Addams Family set designer Julian Crouch, Bang on a Can musician Mark Stewart and filmmaker Ragnar Freidank, plus a concert by local pan-Caribbean collective Natural Expression Rhythm Band.
647 Fulton St (at Rockwell St)
Opens Thu Oct 3
Price band: 2/4
Critics choice
"It's The New Yorker in 3-D, but without the funny glasses," says David Remnick, editor-in-chief of The New Yorker, of its signature festival. Over the course of a weekend, staff writers and editors from the magazine interview dozens of movie stars, authors, musicians and more. The lineup is announced Sept 5, while tickets go on sale Sept 13 and usually disappear in a blink; do your utmost to secure a pass—your brain will thank you for it. Various locations, times and prices; visit newyorker.com/festival for details.
45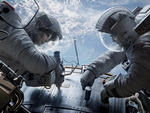 Film: Gravity
We'll see anything by the highly talented Alfonso Cuarón, who directed the best Harry Potter installment (2004's Prisoner of Azkaban) and the memorably dystopic Children of Men (2006). If the awe-inspiring trailers for his sci-fi thriller about two astronauts (Sandra Bullock and George Clooney) stranded in space are any indication, we're in for an even wilder ride than usual.
Price band: 4/4
Critics choice
Rock the Bells is celebrating its 10th anniversary, which accounts for one of the strongest lineups wall to wall that we've seen in many a year. Headlining is Wu-Tang Clan—appearing with, we kid you not, "Virtual ODB." (Virtual 2Pac wept.) You'll also see Pretty Lights, Black Hippy, A$AP Mob, Kid Cudi, J. Cole, Big Sean, Tyler, the Creator and many, many more.
Price band: 2/4
Critics choice
Heat-seeking capsaicin lovers won't want to miss this fiery festival. Tour the pepper plants in the Brooklyn Botanic Garden's Herb Garden and ignite your palate with gratis tasting samples, including hot sauces, chili-infused chocolates (from the likes of Jomart Chocolates and Nunu Chocolates) and salsas from more than 40 local vendors. While you nibble, watch performances by NOLA funk and hip-hop outfit Stooges Brass Band, indie salsa band Bio Ritmo, the Afro-Brazilian Dendê Macêdo & Band and Dance China NY. If you want to experiment with the incendiary veggie on your own time, stop by the Chile Pepper Farm Stand, which will feature goods from local purveyors such as East New York Farms.
Opening Oct 5, the newest addition to AMNH's Hayden Planetarium launches you on an astronomical adventure—from Jupiter's atmosphere to the Mount Wilson Observatory in California, where Edwin Hubble first discovered other galaxies. Learn how dark matter (a.k.a. invisible matter) and dark energy (the force that accelerates the universe's expansion) shape outer space, and follow scientists on their journey to unearth cosmological mysteries. Dr. Neil deGrasse Tyson narrates.
175 Central Park West, (at 81st St)
Opening Sat Oct 5
More info
Celebrate Deepavali—also known as Diwali—with more than 100,000 revelers at one of the largest culturally Indian events in the city. Feast on regional specialties; browse clothing, crafts and jewelry; and catch performances including an appearance by Omi Vaidya from Bollywood rom-com 3 Idiots. Take part in what the organizers hope will be the largest outdoor bhangra party in history, led by DJ Rekha at 5pm—Guinness World Records officials will be there to document the event. The "festival of lights," which commemorates the end of Hindu king and deity Rama's 14 years of exile, culminates in a dazzling fireworks display.
Nothing says "Autumn is really here, mofo" like wooden bins full of just-picked apples and bottles of freshly pressed cider. These icons of the season will be in abundance at this annual festival (formerly called the Queens County Farm Museum Apple Festival). Listen to a Country-Western band, take a hayride ($2) or sip the good stuff from Jericho Cider Mill (glass $1.25, quart $3, half gallon $4.50, gallon $7.75).
---
Write your own review
Events calendar for New York City
Take a break from Christmas shopping and check out...

In its 12th season, this outdoor market boasts mor...

Brooklyn purveyors set up shop across the river at...
442

more events »
Time Out videos
---
---