101 things to do in New York: Your essential guide to Gotham
Discover what every local needs to tick off their NYC checklist in our roundup of the coolest and most quintessential things to do in New York.
By Time Out editors Fri Jan 25 2013
Photograph: David Rosenzweig
101 best things to do in New York City
91. See the Rockettes
For more than 80 years, this iconic dance troupe has captivated audiences with its signature eye-high kicks and smiles as dazzling as their sequined ensembles. To prepare for up to five shows a day during the holiday season (which is most of November and December), these ladies rehearse for six weeks, ensuring the nine routines and eight costume changes can be performed seamlessly. Even the Grinch would be impressed by their precision.
Radio City Music Hall, 1260 Sixth Ave, (at 50th St)
More info
93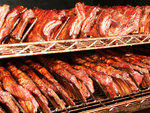 Gorge at the Big Apple Barbecue Block Party
Make the meat lover's pilgrimage to Madison Square Park for this annual gut-busting 'cuefest. Some of the nation's top pit masters (in the past including local luminaries from Hill Country, Dinosaur Bar-B-Que and Blue Smoke) have manned the flames, dispatching grub for $8 a plate. In between plates of meat, listen to live music and check out the free seminars and cooking demos. bigapplebbq.org. Free.
E 23rd St to E 26th St between Fifth and Madison Aves
Mon Jun 8
94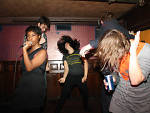 Sing your heart out at a karaoke jam
Cohosts Goldteeth and Lord Easy keep the crowd pumped by acting as backup dancers or instigating water-gun fights during the bonkers Karaoke Killed the Cat affair (Union Hall 702 Union St, between Fifth and Sixth Aves, Park Slope, Brooklyn; 718-638-4400, unionhallny.com; Fri 11:45pm; free). And the Strokes played some of their first gigs at LES mainstay Arlene's Grocery, so you can take comfort in the fact that you're rocking out where a rowdy Jules & Co. did during Arlene's World Famous Live Rock 'n' Roll Karaoke. Just make sure you bring it—cuts by Zeppelin, Aerosmith, Guns N' Roses, AC/DC and other tried-and-true rock staples (the more anthemic, the better) require some serious wailing (95 Stanton St between Ludlow and Orchard Sts; 212-358-1633, arlene-grocery.com; Fri midnight; $10).
95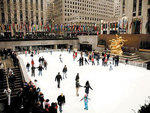 Go ice skating
When the temperature drops, it's time to strap on the blades and take to the slick stuff. NYC has a wealth of outdoor ice-skating rinks that are open well beyond Christmas—and if you want to avoid the mobs, postholidays is probably the best time to visit hot spots like the Rink at Rockefeller Center or Citi Pond at Bryant Park. You can also perfect your lutz year-round at indoor arenas such as Chelsea Piers' Sky Rink. Click here for a full rundown of the city's slippery offerings.
No, it's not quite like that episode of Lost where Hurley builds the golf course, but Randalls Island Golf Center is still a pretty absorbing place to while away a summer afternoon. Surrounded by beautiful trees, the spot boasts a whopping 36 holes of minigolf, in which you must shoot your ball through rocky caves and other obstacles. After your time on the green, grab a table at the on-site beer garden to sip a pint of Blue Moon or split a pitcher of Stella. Check out our roundup for more hole-in-one spots in the city. See website for hours of operation; $9, children 12 and under $7.
Randall's Island Golf Center, 1 Randalls Island, Randall's Island
More info
97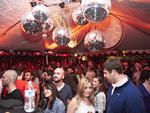 Lose it at one of NYC's best roaming parties
This underground-electronic shindig has been held in a score of clubs, warehouse venues and makeshift spaces throughout the city. The brainchild of Taimur Agha and Fahad Haider, the six-years-and-running affair attracts a range of house and techno all-stars. $TBA. Advance tickets and schedule available through residentadvisor.net/blkmarket.
Laid-back Williamsburg alley the Gutter has early-1980s Milwaukee decor and boasts a dozen killer microbrews on tap, plus a  happy hour ($1 off drafts and $3 off pitchers) before 8pm. Also, early-weekend warriors can play two games for the price of one ($7) between 2 and 6pm.
200 N 14th St, (between Wythe Ave and Berry St)
More info
Price band: 2/4
Critics choice
Just a few blocks away, this popular space takes its design cues from Coney Island, with old freak-show posters and carnival-game relics, and all of the beer sold inside—by Sixpoint, Kelso and the Brooklyn Brewery—is made in the borough. You can tackle a pitcher ($20–$30) and the stoner-food menu from the Blue Ribbon team (delicious fatty brisket, fried chicken) laneside between frames (games are 30mins for $25). The plush tufted couches  are the most luxurious alley seating we've ever seen.
100
Cheer on marathoners
Because of Hurricane Sandy, 2012's ING New York City Marathon was a no-go. But the race will be back on Nov 3, when tens of thousands of runners will hit every borough of our fair city. Catching the ginormous procession is quite a sight; we recommend nabbing a lively spot along Fourth Avenue in Park Slope, Brooklyn; First Avenue between 60th and 96th Streets in Manhattan; or Central Park South near the finish line.
101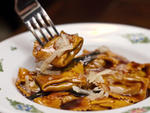 Feast on the cheap during NYC Restaurant Week
Every summer and winter, NYC Restaurant Week returns, with more than 300 restaurants offering three-course dining deals for lunch ($25) and dinner ($38). The fest adds trendy newcomers to a long list of fine-dining standbys, drawing bargain-hunting New Yorkers to try out new spots and revisit old favorites on the cheap. Reservations and a full list of participating venues are available at nycgo.com/restaurantweek. Winter 2013 edition: Through Feb 8.
Locations vary
Times vary
---
New York attractions
Empire State Building
Try imagining New York City's skyline without the towering spire of the Empire State Building. Impossible, right? Taking a mere 11 months to construct, the 1,454-foot-tall emblem became the city's highest building upon completion in 1931. (When One World Trade Center is finished, it will tower over the ESB by a good 300 feet.) During your visit, pay special attention to the lobby, restored in 2009 to its original Art Deco design. You can also impress your pals with these tidbits while queuing for the observation decks: In 1945, 14 tenants were killed when a plane crashed into the 79th floor during heavy fog; a terrace on the 103rd level was once intended for use as a docking station for airships; and the topper's three tiers of lights can illuminate up to nine colors at a time. 350 Fifth Ave between 33rd and 34th Sts (212-736-3100, esbnyc.com)—Tim Lowery

You might also like
---
Users say
I love your 101 things to do in ny city, you are missing a couple of good ones like, Chelsea market, eataly at 23rd and 5th ave, go for a bike ride , run in the Hudson River park , Central Park , Kite fly ad the Hudson River park, Sunset under the Brooklyn bridge, cup cakes at magnolias bakery etc, etc.
This is great!! I've used loads, I also found a little gem called The Moth! They host weekly events around the city. If you go on their website. I'm new to the city and met lots of people there. Had a very fun night!!
Events calendar for New York City
Halloween junkies can get their spooky fix in this...

If the usual Halloween rank and file (zombies, vam...

Times subject to change; visit theblackoutexperien...
333

more events »