101 things to do in New York: Your essential guide to Gotham
Discover what every local needs to tick off their NYC checklist in our roundup of the coolest and most quintessential things to do in New York.
By Time Out editors Fri Jan 25 2013
Photograph: Filip Wolak
101 best things to do in New York City
21. Explore Little Italy
21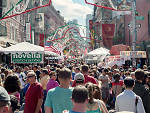 Explore Little Italy
The 2010 census didn't find a single Italian-born resident on or around Mulberry Street, but pasta-and-Parmesan purveyors still line the narrow lanes of Little Italy, and the restored Most Precious Blood Parish (109 Mulberry St between Canal and Hester Sts, 212-226-6427) holds fast. Old-world flavors abound at joints like the 121-year-old Ferrara Bakery and Café (195 Grand St between Mott and Mulberry Sts; 212-226-6150, ferraracafe.com), and every September, the deep-fried–zeppole carts mark the start of the Feast of San Gennaro. But modern joints are moving in too: Hidden under a souvenir shop, the speakeasy Mulberry Project (149 Mulberry St between Grand and Hester Sts; 646-448-4536, mulberryproject.com), which opened in 2011, mixes bespoke cocktails in a den dark enough for a mafia don.
From Lafayette St to Elizabeth St and Spring St to Canal St.
Price band: 1/4
Critics choice
It's crazy to think that finding a good dive bar in the East Village, a 'hood once packed with 'em, has become something of a chore. (It certainly doesn't help that mainstays like Mars Bar, Holiday Cocktail Lounge and Lakeside Lounge have bit the dust in recent years.) But they're still out there! We're big fans of International Bar, a punk-rock tavern that was resurrected in 2008 after shuttering in 2005. Jostle for a can of Genesee and a shot of Evan Williams (both for $4), then pop a buck into an eclectic jukebox, with tunes from the likes of Black Flag and Lou Reed, for a dose of old-school East Village cool.
International Bar, 120 1/2 First Ave, (between St. Marks Pl and E 7th St), 10009
More info
23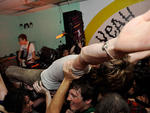 Venuehop in Williamsburg
Three of the city's coolest, best-booked indie-rock spaces—Death by Audio (49 South 2nd St between Kent and Wythe Aves, Williamsburg, Brooklyn), Glasslands (289 Kent Ave between South 1st and 2nd Sts, Williamsburg, Brooklyn; 718-599-1450, glasslands.blogspot.com) and 285 Kent (285 Kent Ave at South 1st St, Williamsburg, Brooklyn)—are all within a block of each other. So catching a few buzzy bands in one evening (especially when you don't have to work in the morning) just got a whole lot easier. In 2012, these venues hosted big rock names like King Tuff, Ty Segall, the Men and Cloud Nothings—and rising groups are on their stages often.
24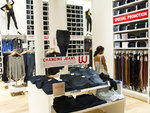 Refresh your wardrobe in Soho
The streets south of Houston may be brimming with shoppers, and there's a good reason: Within this neighborhood, you can spend a whole day storehopping among the upscale boutiques of Chanel (139 Spring St at Wooster St; 212-334-0055, chanel.com) and Derek Lam (10 Crosby St between Grand and Howard Sts; 212-929-1338, dereklam.com), plus more-wallet-friendly retailers, such as Uniqlo (546 Broadway between Prince and  Spring Sts; 917-237-8800, uniqlo.com) and Topshop (478 Broadway between Broome and Grand Sts; 212-966-9555, topshop.com). When you need a break, grab a bite at one of the area's restaurants. In particular, we like Andrew Carmellini's the Dutch (131 Sullivan St at Prince St; 212-677-6200, thedutchnyc.com) and Miss Lily's (132 W Houston St between MacDougal and Sullivan Sts; 646-588-5375, misslilysnyc.com).
25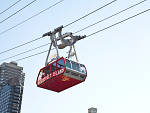 Take the aerial tram to Roosevelt Island
This mostly residential isle (technically part of Manhattan) is full of quirks; for example, the preferred method of getting there involves a four-minute trip on the city's only commuter tram. There's plenty to draw in visitors, notably the fancy new Four Freedoms Park (named for the principles outlined in Franklin Roosevelt's 1941 State of the Union address), which opened in October. A Gothic lighthouse stands at the island's northern tip, and the creepy ruins of the Smallpox Hospital (which operated from the mid–19th century until the 1950s) at the southern end are a part of Southpoint Park. Tram: 59th St at Second Ave (rioc.com)
This Long Island City warehouse, treated as a 200,000-square-foot canvas, is one of the world's best places to see the full spectrum of spray-paint art. Ride a Queens-bound 7 train past the Hunters Point Ave stop for an elevated, panoramic view of the names of NYC's graffiti forebears—like Iz the Wiz—scrawled on 5Pointz's walls. New pieces appear regularly during the painting season, with concrete surfaces assigned by founder and curator Meres One. Go while you can: The property owner is securing permission to replace the warehouse with condos. Take advantage of the weekly behind-the-scenes tours (alternate Saturdays and Sundays 2–3:30pm; $35; visit sidetour.com for details), led by Meres One, to watch a painting demonstration.
27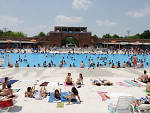 Take a dip
Cannonball! (Sorry, we couldn't resist.) The 60-plus public swimming holes scattered around the five boroughs open in late June, including McCarren Park Pool in Williamsburg, which was unveiled in the summer of 2012, and great standbys Astoria Pool and Red Hook Pool. For more of our favorite free places to make a splash come summertime, scroll through our roundup. And if you're willing to drop some dough, consider these swanky rooftop and hotel pools.
Price band: 2/4
Critics choice
No matter which wing you wander through or where your curiosities lie (dinosaurs, gems or something else entirely), it's hard to explore this Upper West Side fixture without being awestruck. You'll immediately spot the rotunda's hulking Barosaurus skeleton replica, but delving further into the museum's collection, you'll find actual specimens, such as Deinonychus, in the fourth-floor fossil halls. When you tire of dinos, head to the human origins and culture halls to learn more about our evolutionary history, or gawk at the famed 94-foot-long blue-whale model in the Milstein Hall of Ocean Life. Suggested donation $25, seniors and students $19, children 2–12 $14.50, children under 2 free.
Central Park West, (at 79th St)
Daily 10am–5:45pm
Book online
Price band: 2/4
Critics choice
After nearly 78 years, this basement club's stage still hosts the crème de la crème of mainstream jazz talent. Plenty of history has been made here: John Coltrane, Miles Davis and Bill Evans grooved in this hallowed hall. Don't miss the 16-piece Vanguard Jazz Orchestra, which has held its weekly Monday-night slot since the mid-'60s (9pm, doors 8pm; $25 plus one-drink minimum).
178 Seventh Ave South, (at 11th St)
More info
No bar? No advance tickets? No promoters? No phone number? No specific address? This is still a Manhattan music venue, right? John Zorn's small East Village space is so no-frills that it's, by necessity, only about the music—hobnobbing, partying and tweeting that the bands are, in fact, "killing it" are not in the cards here. Envelope-pushing acts (think free jazz, experimental classical music, droney guitar work), however, are. $10 unless otherwise noted.
---
Users say
I love your 101 things to do in ny city, you are missing a couple of good ones like, Chelsea market, eataly at 23rd and 5th ave, go for a bike ride , run in the Hudson River park , Central Park , Kite fly ad the Hudson River park, Sunset under the Brooklyn bridge, cup cakes at magnolias bakery etc, etc.
This is great!! I've used loads, I also found a little gem called The Moth! They host weekly events around the city. If you go on their website. I'm new to the city and met lots of people there. Had a very fun night!!
Events calendar for New York City
Halloween junkies can get their spooky fix in this...

If the usual Halloween rank and file (zombies, vam...

Times subject to change; visit blackouthh.com for ...
300

more events »