101 things to do in the summer in New York City 2012
Our picks for the best events and things to do in the summer in NYC. Make a checklist, keep track on our Facebook app... just get outside and get started.
By Time Out editors Fri May 25 2012
21. Thrill to an adult circus show in Times Square
Pictured: The Gazillionaire and Penny Pibbets, Spiegelworld
SummerStage returns to its spiritual home with a doozy of a lineup. Big-ticket draws include silky-voiced ivory tickler Norah Jones (July 3 at 6pm; $49.50), summery Baltimore dream-pop duo Beach House (July 23 at 6pm; advance $30, at the door $35) and catchy French electro outfit M83 (Aug 8 at 6pm; sold out). A ton of ace free gigs are on the docket too, such as folk-rockers Dawes (June 16 at 7pm), rising retro-soul youngsters Alabama Shakes (June 24 at 3pm) and Malian duo Amadou & Mariam (Aug 4 at 3pm). For the best green spaces to check out before or after the show, consult our comprehensive guide to Central Park.
Rumsey Playfield, Central Park, (enter at Fifth Ave and 72nd St)
Book online
Ever wanted to dance with the devil in the pale moonlight? We're sorry to inform you Beelzebub's washing its hair (we checked), but find another partner and head to Hudson River Park's MoonDance series to salsa (July 22, 29), swing (July 15, Aug 12) or tango (Aug 5) to music by live bands. Arrive at 6:30pm for a dance lesson led by instructors from Dance Manhattan before that night's orchestra strikes up and you get to practice your steps as the sun sets over Jersey—the romantic view should help your partner forgive you for treading on his or her toes.
23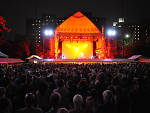 Enjoy two weeks of alfresco culture at the Lincoln Center Out of Doors Festival
Each summer, the Lincoln Center Out of Doors Festival blows open the cultural institution's staid reputation with nightly concerts featuring exotic, danceable and just plain weird musical acts. This year we're particularly excited about the Aug 2 show, which pairs the New York premiere of avant-jazz trio the Bad Plus's Stravinsky-inspired On Sacred Ground and the U.S. debut of minimal techno soundsmith Brandt Brauer Frick's contemporary-music ensemble. Or catch the world premiere of local musical iconoclast Phil Kline's dreamcitynine the next night (Aug 3). Taking a cue from John Cage's Indeterminacy, it features 60 percussionists scattered across the plaza. Events take place at Damrosch Park, Josie Robertsson Plaza and Hearst Plaza. Visit lcoutofdoors.org for more info.
Lincoln Center, W 62nd St (between Columbus and Amsterdam Aves); Various locations
Wed Jul 25 - Sun Aug 12; Various times
Price band: 1/4
Critics choice
The respectfully irreverent art collective Audio Tour Hack creates humorous, pop-culture-tinged guerrilla audio tours, which can be downloaded for free off its website. The Guggenheim's "Choices" exhibit was the first to be hit: In the Artobots audio tour, American artist John Chamberlain's large-scale metal sculptures were reimagined as Decepticon monuments. Those who gamely took the alternative tour learned that what looked like "a charred knot of steel, cables and wires" was in fact the remains of Bluestreak, an unfortunate Autobot "forcibly shaped into a clenched black fist." Participants were also encouraged to close their eyes and sniff one of the pieces, with the exhortation to "let your nose inhale the artist's intent, and unleash your own animal desire to be smelled by the universe around you." The next project will focus on a permanent MoMA exhibit; go to audiotourhack.com in June to download the tour and for more details.
11 W 53rd St, (between Fifth and Sixth Aves)
More info
Urban Space NYC, the folks behind this collection of shops in shipping containers, regularly transforms the lot on Flatbush Avenue into a space for movies, dance parties, roller rinks and more. For instance, watch a flick during the monthly Thursday-night Bike-In Movie series (May 30, June 28, July 26, Aug 30, Sept 27 8pm–midnight; free), or catch the return of the Down & Derby roller-disco party (June 15 6pm–1am; with R.S.V.P. $5). Check our venue page for this week's events.
138 Willoughby St, (at Flatbush Ave Ext), 11201
More info
The venerable institution of spray-painted art celebrates a decade of existence, even with the pall of potential development draped over it. But don't let that get you down—the people behind 5Pointz certainly haven't. They've put together the most ambitious season of free programming yet with B-boy battles (June 9 2–6pm), live painting by street-art legends during the Battle of the Kings in Queens (Aug 11 noon–6pm), music at Freestyle Sundays (May 20, July 1 2–7pm) and more.
27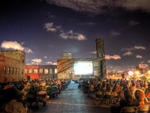 Watch movies under the stars
The cinematic series Rooftop Films programs a 16th season of screenings held in city aeries (and parks and piers). Each event is preceded by a talk or musical performance, and usually followed by a respective after-party—which provides a chance to discuss the works over a drink or two. Notable screenings include SXSW weekend (June 6–8), showcasing favorites from the Austin festival; Jonathan Lisecki's Gayby (June 23) during New York Pride Week; "New York Non-Fiction," featuring personal city narratives (June 29); and Florian Habicht's Love Story (Aug 17), which will close the series. Locations and times vary; visit rooftopfilms.com for details. Screening $12, all-access pass $65.
---
---