101 things to do in the winter in New York City 2012
The coldest months are a time for comfort food, warm drinks and indoor pursuits. Find these and more with our rundown of the best things to do in the winter.
By Time Out editors Sat Dec 1 2012
Photograph: Denny Renshaw
101 things to do in the winter in New York City 2012
91. Celebrate the season with Sufjan Stevens
Price band: 2/4
Critics choice
Sufjan Stevens may have abandoned his project to write an album ode to every American state years ago, but the 37-year-old's dedication to spreading his slightly bonkers strain of festive cheer is unswerving. This tour coincides with the release of his five-EP Christmas box set and has been christened "The Surfjohn Stevens Christmas Sing-A-Long Seasonal Affective Disorder Yuletide Disaster Pageant On Ice" tour. Although it seems unlikely that Stevens has the power to turn the Bowery Ballroom into an ice rink, audiences can expect a thoroughly heart-warming, decidedly off-kilter take on seasonal traditions and tunes.
Price band: 2/4
Critics choice
There's no shortage of quality free burly-Q shows, but throwing down serious coin has its perks at Duane Park. On Friday and Saturday evenings, the Tribeca hot spot hosts clothes-shedding performances and a live jazz combo while you dine on a Southern style three-course meal. The ornate space—outfitted with a glimmering chandelier and white columns—bursts with 1920s-style romanticism. Visit now, before it relocates to the former Bowery Poetry Club in February. • Fri 10pm, Sat 8pm; $75. Sat 10:30pm; $90.
157 Duane St, (between Hudson St and West Broadway)
Fri 10pm, Sat 8pm, 10:30pm
More info
Price band: 1/4
Critics choice
This Willamsburg video store doesn't only rent movies, it screens them, too. New indie releases, midnight fare—there's even an in-house bar that serves cocktails, beer and wine so you can get more than just a cinephile buzz. Find out more with our first look at Videology.
308 Bedford Ave, (between South 1st and 2nd Sts), 11211
More info
94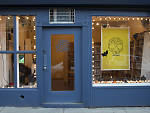 Check out a bricks-and-mortar video store
Rediscover the thrill of scouring shelves at Video Free Brooklyn, a ten-year-old Carroll Gardens shop, revamped by film critic (and former TONY contributor) Aaron Hillis this past summer. The storefront, though tiny, boasts a solid selection of new indies, cult TV shows, Criterion discs and animated features to rent, harkening back to the cool, long-shuttered video stores of the '90s and early aughts. • 718-855-6130, twitter.com/vfbrooklyn. DVDs $3.50; Blu-rays $4; $1 off all rentals on Wednesday.
Take a break from Christmas shopping and check out Time Warner Center's state-of-the-art light display Holiday Under the Stars. The spectacle features a dozen 14-foot LED stars that do a colorful "dance," flashing more than 16.7 million color mixes in time to classic Yuletide tunes. You'll be so moved, you won't even care that you maxed out your MasterCard getting Aunt Judy that back massager she's been wanting. When you're done marveling, don't forget to check out the ten new stores that have recently opened at the TWC.
Price band: 4/4
Critics choice
After a day of seeing the holiday sights in midtown, make a pit stop at this stylish lobby lounge—one of the area's finest spots to bend an elbow. The luxe interior is matched by a smartly curated drink menu, tended to by the Cocktail Collective—an all-star squad of booze slingers, plucked from the country's best bars. Once you sink into a leather armchair and sip one near the blazing fireplace, it's dangerously easy to forget about the bill waiting for you when you're done.
44 W 44th St, (between Fifth and Sixth Aves )
Book online
Price band: 1/4
Critics choice
Glide and twirl to soul music at this fund-raiser for Figure Skating in Harlem. Competitive figure skater Sharon Cohen founded the organization in 1997 to help young girls learn the ice-slicing arts and boost their confidence and leadership skills. In addition to rink time, the party will feature a live DJ, snacks, activities and a performance by FSH's synchronized-skating team, Harlem Ice. Visit figureskatinginharlem.org for more information.
Paul D. Miller, a.k.a. DJ Spooky, continues his "Reframed" series for the Metropolitan Museum of Art with the Nauru Elegies, a multimedia collaboration consisting of a string-quartet performance and digital-animation projections. The piece explores the complexities of the global economy via a case study of the Republic of Nauru, an overmined South Pacific island and tax haven. Aiming to reflect colonial and postcolonial issues in contemporary digital society, Miller's composition for strings will be performed live during this thought-provoking one-night event.
Indulge in olfactory pleasures at this yearly dairy bacchanalia. French spots like L'Express and Marseille offer more than 20 cheeses on curdcentric menus during the ten-day event. True rind addicts should snag a spot at the fromage fest's kickoff at 404 Event Space, where all nine participating restaurants will offer their top delights—such as blue-cheese ice cream—paired with craft libations. Visit tourdefrancenyc.com for more information.
Price band: 1/4
Critics choice
Here's your cheat sheet when it comes to Native American culture: Johnny Depp as Tonto is, ahem, less than authentic; but Theater for the New City's 38th annual event is the real deal. The two-hour performance by the Thunderbird American Indian Dancers is a whirlwind tour across North America that includes a caribou dance from the Inuit, a buffalo dance from the Hopi and a stomp dance originating in the Southeast. The pageantry is all explained with stories and introductions by MC Louis Mofsie, and audiences can share the joy of the powwow during the friendship-themed Round Dance.
101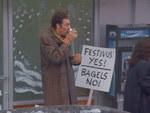 Celebrate Festivus
This nondenominational meal, introduced to the world by Seinfeld, varies depending on whom you're asking; we suggest meatloaf, turkey or ham, followed by a Pepperidge Farm cake decorated with M&Ms, a favorite of Festivus term-coiner Dan O'Keefe. The holiday also includes such novel practices as the Airing of Grievances, which takes place after dinner and entails each person telling everyone else all the ways they have disappointed him or her over the past year. The Feats of Strength are also performed after eating. This involves each guest wrestling the head of the household to the floor, with the celebrations ending only if the head of the household is actually pinned. No tree is necessary, for on this day—a holiday for the rest of us—an unadorned aluminum pole is the sole decoration.
---
You might also like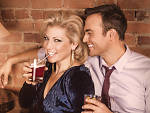 The best New York bars and cocktails for winter
See more in Things to Do
---
Things to do in the winter by month