30 ways to warm up
It's friggin' coooold out there. Here's how to get nice and toasty. Right now.
By Tim Lowery Wed Jan 4 2012
---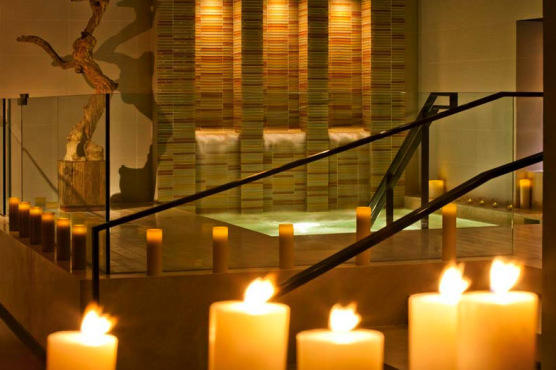 Jacuzzi at the Setai Club & Spa
1. Get a hot shave
Dudes: Need to reclaim your masculinity? Settle in for a hot shave, which not only boasts a Don Draper--cool factor but is also a great way to revitalize your face during the harsh winter months. At Italian throwback Barbiere NYC (246 E 5th St between Second Ave and Cooper Sq; 646-649-2640, barbierenyc.com), ask for the Classica, which comes with a hot lather (handmade by proprietor Matthew Demayo) and a towel, plus an eye-opener of your choice: a shot of Jameson or espresso ($30). In Little Italy, the New York Shaving Company (202B Elizabeth St between Prince and Spring Sts; 212-334-9495, nyshavingcompany.com) offers the Ultimate Shave, which includes preshave oil made with local products, an aftershave mask, and a hot towel soaked in lemon essential oil and rosewater ($45). Financial District folks should head to mainstay Esquires of Wall Street (14 Wall St between Broadway and Nassau St; 212-349-5064, esquiresofwallst.com) for a cheap, no-fuss hot-shave-and-towel treatment ($17) that has been going strong since 1932.
2. Drink hot cocktails
Nothing warms the bones after a chilly trek outside quite like booze—except, of course, warm booze. The bartenders at Williamsburg cocktail hub Huckleberry Bar (588 Grand St at Lorimer St, Williamsburg, Brooklyn; 718-218-8555, huckleberrybar.com) make the Double Black Diamond, a mug of house-made hot chocolate spiked with chai-infused Black Grouse Scotch and coffee liqueur ($10). Chocolate fiends should warm up to the Rococo Cocoa at Peels (325 Bowery at 2nd St; 646-602-7015, peelsnyc.com), a creamy blend spiked with Chartreuse (a French liqueur) and topped with a vanilla-honey marshmallow and dark-chocolate shavings ($13). At Highlands (150 W 10th St between Greenwich Ave and Waverly Pl; 212-229-2670, highlands-nyc.com), try the anCnoc—a blend of 12-year-old Scotch, brown sugar and Drambuie-laced whipped cream ($13). Serious drinkers will have a field day thumbing through the absolutely massive drink menu at the Brandy Library in Tribeca (25 North Moore St at Varick St; 212-226-5545, brandylibrary.com), where the Hot Brandy Alexander—cognac, dark crme de cocoa and heavy cream—comes with a shortbread cookie ($14). For more cold-weather drinkeries, click here.
3. Soak in a hot tub
Face it: You long ago passed the age when poolhopping was still acceptable. Convene with other grown-ups at the swanky Financial District spot The Setai Club & Spa (40 Broad St at Exchange Pl; 212-363-5418, setaiclubnewyork.com), where a day pass ($65) admits you to the Jacuzzi (surrounded by dim lighting and candles to create a calming mood), sauna and steam room. At Great Jones Spa (29 Great Jones St between Bowery and Lafayette St; 212-505-3185, greatjonesspa.com), warming up in the thermal tub (or the river-rock sauna, steam room and the rest of the "water lounge") is also $50—or free if you spend more than $100 in spa treatments.
4. Eat some spicy-ass chicken
We could manage only three of the diabolical, off-the-menu Seppuku chicken wings at Buffalo Cantina (149 Havemeyer St between South 1st and 2nd Sts, Williamsburg, Brooklyn; 718-218-7788; half dozen $18, dozen $40). By far the spiciest we've encountered in NYC, the lava-red, chili-seed-speckled sauce features a hit list of the world's most infamous heat bombs, including bhut jolokia, chile de rbol, serrano and pure capsaicin. The effect is ruthless: We teared up, felt light-headed and briefly considered vomiting, then walked out with our tail between our legs. If you can eat 12 in three minutes, the hefty bill is waived and you get your photo on a wall of fame. Our advice: Don't be a hero, bro.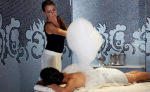 5. Take a Turkish bath
If you're pining to feel pampered, reserve a session at the swanky new Spa at Trump Soho (246 Spring St between Sixth Ave and Varick St; 212-842-5505, trumpsohohotel.com) for its traditional Turkish Hammam treatment, pictured (45 minutes $150). In a dome covered with blue mosaic tiles, you'll lie on a heated stone while a staffer pours castile soap bubbles and hot and cold water over your back. For more than 100 years, at the East Village's Russian & Turkish Baths (268 E 10th St between First Ave and Ave A; 212-674-9250, russianturkishbaths.com; $35), locals have sweated out toxins in the no-frills, eucalyptus- and lavender-infused-steam--filled Turkish Room. Make sure you call ahead or check the website before heading there; the place holds coed, women- and men-only hours, and you're required to cover up with bathing suits or shorts during the former. Click here for more great bathhouses.
6. Sip a great cup of coffee
Recently, we scoured all corners of the city to find the 51 best cups of java around. Not the ones for downing in a rush, but those worth sitting back and enjoying, like the Honduran El Jaguar Farm medium roast at Birch Coffee (Gershwin Hotel, 5 E 27th St between Fifth and Madison Aves; 212-686-1444, birchcoffee.com; $2.50--$3.50), the chicory-sweetened New Orleans at Blue Bottle (160 Berry St between North 4th and 5th Sts, Williamsburg, Brooklyn; 718-387-4160, bluebottlecoffee.net; $4), the single-origin espresso at Sweetleaf (10-93 Jackson Ave at 11th St, Long Island City, Queens; 917-832-6726, sweetleaflic.com; $3) and many more.
7. Gorge on hot wings
For a killer deal, load up on 10 wings Monday through Wednesday at Croxley Ale House (28 Ave B between 2nd and 3rd Sts, 212-253-6140), 4pm--1am. Just be sure you order at least 15 wings—and don't try to take any home (there's a strict no-doggie-bags policy).
8. Relax during a hot-stone massage
Tense? Freezing? Shake off both sensations at Chinatown's Eden Day Spa (388 Broadway between Walker and White Sts; 212-226-0515, edenspany.com), where a masseuse will gently lay lava stones on your back's pressure points ($120 for one hour), which should help melt away all of that postholiday, pre--tax-season stress.
9. Stroll through an indoor desert
Explore 11 different habitats without venturing farther than the Bronx. At the New York Botanical Garden's Enid A. Haupt Conservatory (Bronx River Pkwy at Fordham Rd, Bronx; 718-817-8700, nybg.org; $20, seniors and students $18, children 2--12 $10, children under 2 free), walk between rain-forest and desert environs, which are all enclosed under a glass greenhouse. Through Jan 16, get lost in the woods with the "Forest in the City" exhibition. Or marvel at tropical flowers and trees from Jan 21 through Feb 26 during the "Caribbean Garden" exhibition.
10. Cook Korean BBQ
Obviously, K-town offers plenty of ways to partake in the thrill of watching meat grilled right at your table. For our money, though, your best bet is to bring your group to Shilla (37 W 32nd St between Fifth Ave and Broadway; 212-967-1880, shillanyc.com). Inside the inviting, woody space, share sizzling helpings of prime rib ($28.95), beef brisket ($22.95) and, to appease the noncarnivores, mixed vegetables ($18.95).