30 ways to warm up
It's friggin' coooold out there. Here's how to get nice and toasty. Right now.
By Tim Lowery Wed Jan 4 2012
---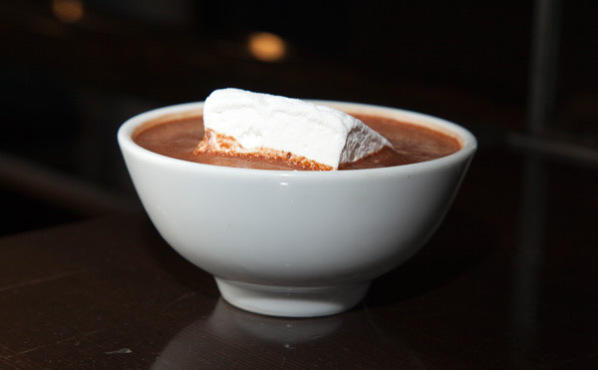 11. Go to a fireplace bar
Helmed by Meaghan Dorman of the Raines Law Room,Lantern's Keep (49 W 44th St between Fifth and Sixth Aves; 212-453-4287, thelanternskeep.com) is the antithesis of your average-crazed midtown drinkery. With only 30 seats, you're guaranteed to feel the heat blazing from the black lacquer furnace, even if you're not sitting right near the gas-powered hearth. Ask head bartender Theo Lieberman (Milk & Honey) or one of the other expert barkeeps to mix you a classic cocktail, such as the New Yorker Highball ($18), a warming blend of bourbon, champagne, lemon juice and red wine. Plan ahead, though—the bar has limited hours and is occasionally rented out for private parties, so your best bet is to make a reservation. For more fireplace bars, click here.
12. Drink hot chocolate
Serious java may garner the most praise atCaf Grumpy (locations throughout the city; visit cafegrumpy.com), but the cocoa here deserves just as much attention: A proprietary blend of organic stone-ground 72 percent dark chocolate—finished with steamed whole milk—lends notes of vanilla and caramel to the balanced sipper ($3.50).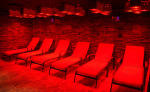 13. Go saunahopping
At Spa Castle (131-10 Eleventh Ave between 131st and 132nd, College Point, Queens; 718-939-6300, nyspacastle.com), a sort of relaxation amusement park, the entry fee (weekdays $35, weekends and holidays $45) grants you access to seven saunas, including the gold room (outfitted in real gold, which apparently harkens back to an ancient technique for soothing sore limbs), one outfitted with LED lights and a room with stacked blocks of Himalayan salt.
14. Order a bowl of Texas-style chili
Texans may beg to differ, but NYC does sling some kickin' versions of their state's official dish. At the cafeteria-style Daisy May's BBQ USA (623 Eleventh Ave at 46th St; 212-977-1500, daisymaysbbq.com), waiting in line for its Bowl o' Red Texas Style Chili plate special ($14)—which comes with your choice of two fixings, like golden spicy corn bread, collard greens and bourbon peaches—is well worth it. Polish off the brisket-and-ends-filled BBQ Chili ($7.95) at Chelsea's R.U.B. BBQ (208 W 23rd St between Seventh and Eighth Aves; 212-524-4300, rubbbq.net), whose name stands for "Righteous Urban Barbecue," with a glass of house-made sweet tea ($2.50). At Harlem honky-tonk joint Dinosaur Bar-B-Que (700 W 125th St at Twelfth Ave; 212-694-1777, dinosaurbarbque.com), top your bowl of Chili on the Half Shell with red onion, cheese, sour cream, pickled jalapeos and tortilla chips ($8.75).
15. Get a steamy facial
Does your face have that weathered, Eastwood-in-the-'70s look going on during cold months? Or is it just feeling a bit grimy? Lia Schorr Skin Care (686 Lexington Ave between 56th and 57th Sts; 212-486-9670, liaschorr.com), which has tackled such problems for 30 years, offers a European Deep Facial that should cure what ails you. The hour-plus process starts with a massage and a thorough steaming to open up your pores, and is followed by the application of tightening and calming masks (75 minutes for $95). For a bunch of budget-friendly facials, click here.
16. Sweat en masse during hot yoga
Strike a pose in a room set to 100F during hot yoga—or Bikram yoga, as those in the biz call it—at Bikram Yoga Lower East Side (172 Allen St between Rivington and Stanton Sts, second floor; 212-353-8859, bikramyogales.com), which offers a steal: A week of unlimited classes costs only $20 for first-timers to the space (it's a still-reasonable $20 per class for everyone else). Click here for more great options.
17. Dig into a potpie
When a gracious server at The Dutch (131 Sullivan St at Prince St; 212-677-6200, thedutchnyc.com) tried to break the towering, crackerlike crust that caps Andrew Carmellini's delirious potpie ($32), we scolded him: "It's like you just opened our Christmas present!" There is serious satisfaction in busting through the puffy dome—which is speckled with sea salt and looks like some sort of Land of Oz mushroom—to pillage the hearty stew within. Shreds of D'Artagnan bunny, braised in stock, riesling and hard cider, mingle with a selection of vegetables such as Tokyo turnips and baby potatoes. Crack the shell (the staff-administered service point has been retired) to release its intense aroma.
18. Enjoy a high-quality blow-dry
Leave with your hair bouncy and toasty-warm after visiting Butterfly Studio (149 Fifth Ave between 20th and 21st Sts, second floor; 212-253-2100, butterflystudiosalon.com), where ladies can get a wash and a blowout ($65--$85), while fellas can opt for the Capitol Force Treatment (is that a Harrison Ford movie?), which includes a scalp massage, shampoo and blow-dry ($35).
19. Test your tongue with jungle curry
There's no creamy coconut milk to temper the flames of this tear-jerking Thai dish ($9), the spiciest in the country's anthology of curries. Head to Ayada(77-08 Woodside Ave between 77th and 78th Sts, Elmhurst, Queens; 718-424-0844) and ask for it phet mak ("really spicy" in Thai), if you can stand the heat. The cooks roast a freshly pounded paste of dry red chilies, lemongrass, kafir lime leaf and other aromatics in the wok and thin it out with water. True to its jungle roots, the original dish calls for wild boar, but you can get it here with shrimp, beef or chicken bobbing alongside the bamboo, sweet Thai basil and a mix of vegetables.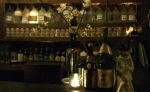 20. Down hot sake
At the subterranean Sake Bar Hagi(152 W 49th St between Sixth and Seventh Aves, 212-764-8549), order the ozeki (small $4.50, large $8) for a warming buzz. Take advantage of the reverse happy hour at the Japanese pub Izakaya Ten (207 Tenth Ave between 22nd and 23rd Sts; 212-627-7777, izakayaten.com), pictured, offered Thursday through Saturday, where you can ask your server for any array of hot drinks from the slender bar's huge selection. From 11pm to 3am, waiters sling two-for-one glasses of sake ($7--$17) and shochu bottles for $20 off (normally $35--$85).