50 best things to do when you're high
These venues and events don't condone drug use-hell, they don't even know we're writing this story. Oh, and drugs are bad for you. Don't use them.
By TONY staff. Additional reporting by Kasia Merrill Tue Apr 19 2011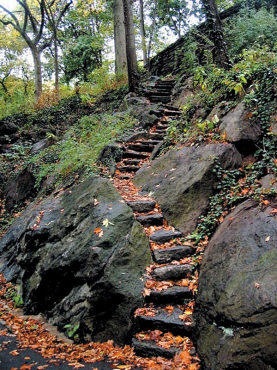 Lose yourself in Fort Tryon Park
When the weather is nice, escape from the city to this quiet park, only about 25 minutes from midtown. Get lost among the winding paths of the Olmsted Brothers--designed Alpine Garden, or just enjoy the views of the Palisades and New York City—the park includes one of the highest points in Manhattan. Enter at Margaret Corbin Circle, Fort Washington Ave at Cabrini Blvd (212-795-1388, forttryonparktrust.org)
Become a Deadhead all over again
On one (very specific) night, select movie theaters across the nation will be rereleasing The Grateful Dead Movie. This doc combines concert footage shot at San Francisco's Winterland Ballroom in 1974 with never-before-seen interviews with founding members Jerry Garcia and Bob Weir. Smuggle in a pint of Cherry Garcia and prepare yourself for what the Fat Man is going to look like on the big screen—beard, belly and all. More details and tickets are at fathomevents.com. Regal Union Square Stadium 14, 850 Broadway at 13th St (212-253-6266, regmovies.com) * Clearview Cinemas, 400 E 62nd St at First Ave (212-752-0709, clearviewcinemas.com). Apr 20 at 7:30pm; $12.50--$13.

Blow your mind at the New York Hall of Science
The museum's interactive exhibits concerning molecules, physics and outer space are all about mind stimulation. You'll take everything in rabidly and then forget it all later, but you'll have a damn good time in the process. Leave your too-far-gone friends on the Rocket Park Mini Golf Course while you wander off to marvel at a Mbius strip. 47-01 111th St at 48th Ave, Corona, Queens (718-699-0005, nysci.org). Spring hours: Mon--Thu 9:30am--2pm; Fri 9:30am--2pm; Sat, Sun 10am--6pm.

Giggle and play at Chuck E. Cheese's
How can you go wrong with a place that has the word cheese in its name? Kids can be kids (and you can too) among the video games, high-tech simulator rides and Skee-Ball lanes at these family-friendly entertainment centers. If your hand-eye coordination holds out, you may even leave with enough game tickets to score a sweet prize. Various locations, visit chuckecheese.com for more information.

See New York through Will Eisner's eyes
The creator of comic sensation The Spirit has a whole collection of work themed around your favorite city; try to maintain a grasp on reality as you meander through paintings of the neighborhoods you visit every day. The artworks are gathered from The Spirit as well as later graphic novels such as A Contract with God and To the Heart of the Storm. Additional contributions by artists who were influenced by Eisner, including Jules Feiffer and Art Spiegelman, make up the rest of this exhibition. Museum of Comic and Cartoon Art, 594 Broadway between E Houston and Prince Sts (212-254-3511, moccany.org). Through June 30, Tue--Sun noon--5pm; $5, children under 12 free.

Catch a midnight screening of The Princess Bride
Your favorite '80s adventure is returning to the big screen for another go? Inconceivable! Wander into the Sunshine Cinema at midnight to catch shrieking eels, a six-fingered man, an unbreakable love and, of course, rodents of unusual size. Princesses and pirates not your thing? Check back the next week to be wowed by another classic: Jaws. Landmark's Sunshine Cinema, 141--143 E Houston St between First and Second Aves (212-260-7289, landmarktheatres.com). The Princess Bride: May 13, 14; Jaws: May 20, 21. Midnight; $10.

Cruise out to an island
Though you might not be able to get T-Pain to come with you on this free boat ride, it's still worth going for the chance to hang out at the former military base of Governors Island. Following your seven-minute ferry trip (rapping optional), you'll be rewarded with the chance to meander around the island, ride a bike for free, take in killer views of the Statue of Liberty and Manhattan skyline, and, depending on the weekend, see art exhibits or cultural events. Governors Island (govisland.com). Fri--Sun May 27--Sept 25. Free Friday bike rentals begin May 27 (bikeandroll.com).

Eat amazing ice cream
We're fiends for the General Greene's now-legendary salted caramel pretzel flavor, which smacks you with a wave of supersaltiness before mellowing into a bittersweet caramel. After you've scarfed down your cone, drop around the corner to explore the restaurant's newly opened lemonade stand and grab yourself a homemade soda to top it all of off. With those droopy eyes, you're going to need that sugar rush. 229 DeKalb Ave at Clermont Ave, Fort Greene, Brooklyn (718-222-1510, thegeneralgreene.com); call ahead for hours. For more great flavors, click here.

Look at music
For a new perspective on the tune you've had on repeat all day, head to the Museum of Modern Art to check out "Looking at Music 3.0." Peruse artwork that was inspired by both the legendary (the Beastie Boys, Wu-Tang Clan, Grandmaster Flash) and the strange (John Cage, whose song "4:33" was performed live by sitting at a piano for four minutes and 33 seconds in complete silence). Pop your iPod into your pocket and try to remember a few details that you can use to impress your friends in conversation later. 11 W 53rd St between Fifth and Sixth Aves (212-708-9400, moma.org). Mon, Wed, Thu, Sat, Sun 10:30am--5:30pm; Fri 10:30am--8pm. $20, seniors $16, students $12, children 16 and under free. Fri 4--8pm free. Through June 6.

Geek out at an international chiptune festival
If you were always more into Mario than Madonna, you'll love the Blip Festival, dedicated to art and music made from retro video games and computer hardware. Try not to get too baked before showing up, as there are workshops, lectures and demos during the day; if your ability to concentrate is long gone, check out the evening's entertainment, featuring NYC's own Tristan Perich and Bit Shifter as well as musicians from Australia and China. Come to dance, or to experience the feeling of being trapped in an old-school Nintendo. Eyebeam Art and Technology Center, 540 W 21st St between Tenth and Eleventh Aves (blipfestival.org). May 19--21; three-day pass $51.70, one-day pass $20.
Users say
go to six flags and go on every ride.
1- Be Aware of your thoughts and feelings. Look where do they come from, look how your logic works, for example look when you are convinced about something, fine out the mechanisms of your mind. 2- Write. Analyse some quotes for yourself. let the power of the substance convert to knowledge via writing, a powerful tool to free yourself. 3- Do prayer. when you connect to a higher energy source when you are more powerful, it charges the aura, it brings you good thoughts, good decisions you couldn't have make if you were not stoned. 4- Generally speaking, do something for yourself. Don't waste the Energy.
Play a handrum and get in touch with your primitive self.