50 best things to do when you're high
These venues and events don't condone drug use-hell, they don't even know we're writing this story. Oh, and drugs are bad for you. Don't use them.
By TONY staff. Additional reporting by Kasia Merrill Tue Apr 19 2011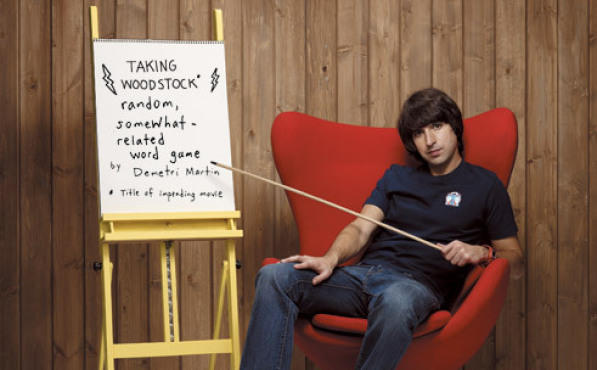 Hear Demetri Martin read This Is a Book
In case you didn't get it the first time, Demetri Martin's latest comedic wonder is, in fact, a book. If you're still not sure, stop by Union Square and see the comedian give a free reading of the musings within. Barnes & Noble, 33 E 17th St between Union Sq East and Broadway (212-253-0810, barnesandnoble.com). Apr 25 at 7pm.
Contemplate your place in the universe
The current space show at the Hayden Planetarium lets you explore the stars without leaving your seat. In Journey to the Stars, never-before-seen visualizations of physics experiments on a grand scale and mind-expanding information make for a serious revelatory experience. You'd be forgiven for starting to believe that the narrator, Whoopi Goldberg, is God. American Museum of Natural History, Central Park West at 79th St (212-769-5100, amnh.org). Mon, Tue, Thu, Fri every 30mins 10:30am--4:30pm; Wed every 30mins 11am--4:30pm; Sat, Sun every 30mins 10:30am--5pm. $24 (includes museum admission).

Prove you really are hilarious in Improdome at the PIT
Finally muster up the courage to join in this weekly improv jam hosted by comedian Chris O'Neil. Bring two of your funniest friends or show up alone and make a team with fellow audience members, then go head-to-head with other groups as you perform five-minute sets. At the end of the night, the audience votes and the winning team returns the next week to defend its title—just make sure to keep your, er, energy level up for round two. Peoples Improv Theater, 123 E 24th St between Park and Lexington Aves (212-563-7488, thepit-nyc.com). Wed 11:15pm; free.

Win prizes at Le Bingo
Indulge in an offbeat night out with the trifecta of games, drag and drinks. Try your luck at bingo during this wacky weekly event hosted by legendary drag queen Linda Simpson. You might not know who's who or what's what, but with drink specials chosen by the "Spinning Wheel of Fortune," you won't really care. (Le) Poisson Rouge, 158 Bleecker St at Thompson St (212-505-3474). Sat 7:30pm; free, bingo card $2.

Eat everything at the New Amsterdam Market
Cheese is what I really want. No wait, chocolate. Yeah. And now...bread. Mm. Squelch the hunger as quickly as you can by floating from stand to stand at this warm-weather snack haven. The first market of 2011 is on May 1 and is themed for Floralia, the pagan festival of vegetation. Perfect. Old Fulton Fish Market, South St at Beekman St (newamsterdammarket.org). Sun 11am--4pm; season begins May 1.

Help get reefer legalized
Party with political purpose on 420 eve at LeGAYlize It!, a gay bash to raise funds for advocacy group New York Cannabis Alliance. DJ T-Boy and singer Adam Joseph will keep things rolling until the promised "special celebrations" at midnight. Stonewall Inn, 53 Christopher St at Seventh Ave South (212-488-2705, thestonewallinnnyc.com). Apr 19 at 10:30pm; $10.

Know what it is to be a guitar god at the U.S. Air Guitar Championships
Channel your excess energy into some faux fretwork and rock out in the rowdy audience of this annual competition. Air guitarists are judged on technical merit, stage presence and the intangible quality of "airness," or the ability to turn imitation into an art form. New York regionals will be held at Bowery Ballroom (6 Delancey St between Bowery and Chrystie St; 212-533-2111, boweryballroom.com. 8pm; $20) on June 15, finalists will go on to compete at the national championships on July 23 in Chicago. Sign up at usairguitar.com/entry. If you're too shy, don't worry: As a spectator, you're bound to pick up some pointers from the pros, which you can practice in your bedroom afterward.

Rave on at Fuerza Bruta: Look Up
A loud, driving techno soundtrack, tons of dancing and lots of writhing ladies swimming in suspended pools—this theater-show-cum-dance-party has all the hallmarks (and then some) of a crazy, adrenaline-pumping rave. Keep in mind that although you'll be spritzed by water during the performance, you should drink plenty of it, too. Daryl Roth Theatre, 101 E 15th St at Union Sq East (212-239-6200, fuerzabrutanyc.com). Ongoing, Wed--Sun; $79.

Listen to stories about the munchies
In the next installment of the popular Vol. 1 Three Minute Reading Series, 13 Brooklyn food writers—including TONY writer Jamie Feldmar—will spin their best culinary yarns for just 180 seconds each. Beware: After listening to these original works, there will be no keeping the cravings at bay. Preemptively order a fried chicken sandwich with lettuce, tomato and mayo ($9) as soon as you arrive. Bar Matchless, 557 Manhattan Ave at Driggs Ave, Greenpoint, Brooklyn (718-383-5333, barmatchless.com). Apr 20 at 7pm; free.

Get a massage at Chinatown's Fishion Herb Center
Try not to freak out the massage therapist with your ecstatic moans at this no-frills rubdown joint. Clients are treated to a private room (with a door!) and a massage from an experienced acupressurist. 107 Mott St between Canal and Hester Sts (212-966-8771, fishionherbcenter.com). 15mins $10.50, 30mins $20.50, 45mins $31, 60mins $41.


Users say
go to six flags and go on every ride.
1- Be Aware of your thoughts and feelings. Look where do they come from, look how your logic works, for example look when you are convinced about something, fine out the mechanisms of your mind. 2- Write. Analyse some quotes for yourself. let the power of the substance convert to knowledge via writing, a powerful tool to free yourself. 3- Do prayer. when you connect to a higher energy source when you are more powerful, it charges the aura, it brings you good thoughts, good decisions you couldn't have make if you were not stoned. 4- Generally speaking, do something for yourself. Don't waste the Energy.
Play a handrum and get in touch with your primitive self.