50 best things to do when you're high
These venues and events don't condone drug use-hell, they don't even know we're writing this story. Oh, and drugs are bad for you. Don't use them.
By TONY staff. Additional reporting by Kasia Merrill Tue Apr 19 2011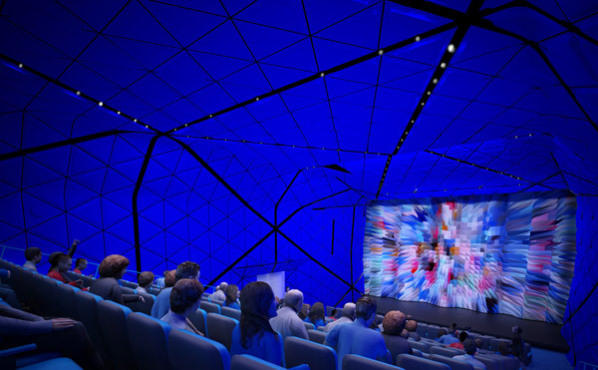 Overload your senses at the Museum of the Moving Image
You could spend all day twirling dials and pushing buttons at this mediacentric institution, and you probably will: Play 14 classic video games including Asteroids, Ms. Pac-Man and Space Invaders; record your voice into a part of The Wizard of Oz; make a short animated film and e-mail it to yourself; and see a colorful, psychedelic 50-foot-long video projection and the world's first video arcade game. 35th Ave at 37th St, Astoria, Queens (718-777-6888, movingimage.us). Tue--Thu 10:30am--5pm; Fri 10:30am--8pm; Sat, Sun 10:30am--7pm. $10, seniors and students $7.50, children 5--18 $5, members and children under 5 free; Fri 4--8pm free.
Get the giggles
When everything seems hilarious, imagine how effective an actual funny joke will be. Leo Allen hosts some of the biggest names in stand-up every week during Whiplash; many of them are in town for high-paying gigs and come by to surprise audiences unannounced. Even better, the show is free, so you can save your money for Rizla and Zig--Zag. Upright Citizens Brigade Theatre, 307 W 26th St between Eighth and Ninth Aves (212-366-9176, ucbtheatre.com). Mon 11pm; free.

Dodge emo fans at the Bamboozle festival
The annual hip-hop/emo-pop extravaganza rolls back into the NYC area: Lil Wayne heads up the hip-hop axis, which also features Amber Rose's new squeeze, Wiz Khalifa, and the excellent Waka Flocka Flame; while eyelinered kids in hoodies can pump fists along to Dashboard Confessional and 30 Seconds to Mars. New Meadowlands Stadium, 50 NJ-120, East Rutherford, NJ (201-559-1300, thebamboozle.com). Apr 29, 30 at 12:30pm; May 1 at 12:30pm. $30--$130.

Gobble free food at Macy's
Take a seat and watch visiting chefs cook your afternoon snack at the Cellar Kitchen, which hosts hour-long demos at 1pm on Tuesdays, Thursdays and Saturdays (Memorial Day through Labor Day, the schedule changes to Tuesdays and Thursdays). Past guests have included an Iron Chef judge, cookbook authors and Mexican specialists—most of whom give the audience bites of the dishes afterward. Check the website for upcoming events. 151 W 34th St between Broadway and Seventh Aves (212-695-4400, macys.com)

Watch kids wipe out
It might take you back to your teenage years to get baked and hang out at a skate park, but is that such a bad thing? Watch the courageous and sneakered youth pop ollies at Maloof Skate Park in Flushing Meadows--Corona Park (enter at Passerelle Pedestrian Overpass near the Mets--Willets Pt subway station; 718-760-6565, nyc.gov/parks), Hudson River Park Pier 62 (W 23rd St at Twelfth Ave; 212-627-2020, hudsonriverpark.org) or Open Road Park (E 12th St between First Ave and Ave A; 212-360-1311, openroadny.org), our top picks for skateboarding parks.

Join a drum circle
Sunday afternoons are made for lazing in the park; if there's live percussion nearby, that's even better. Drummer's Grove in Prospect Park has been hosting an informal drumming circle since 1968, when a group called the Congo Square Drummers started gathering there. Bring your own instrument if you want to join in, or just chill out in the grass and enjoy the rhythms. Enter at Parkside Ave at Ocean Ave, Prospect Park, Brooklyn (718-965-8988, prospectpark.org). April--October. Sun 2pm; free.

Watch TV
Secret Formula's TV Party series allows you to be social and drink beer while simultaneously engaging in the habitual stoner ritual of watching television. Feel free to dress up for the occasion, since TV Parties always have a theme; past events have focused on either cult shows like Doctor Who or nostalgic '90s cartoons and comedy. Go to secretformulany.tumblr.com for more info about upcoming events. Next event: Twin Peaks, The Bell House, 149 7th St between Second and Third Aves, Gowanus, Brooklyn (718-643-6510, thebellhouseny.com). May 9 at 8pm; $5.

Get someone else to make you a grilled cheese sandwich and bring it to you
It's the poor man's prix fixe: craft beer and grilled cheese at Billyburg bar Nita Nita. For $15 every Wednesday, bookend a gooey sammie (cave-aged Gruyre on sourdough pullman) with two cans of suds: You'll choose from a rotating list of four beers, just don't go drinking them too fast in your state. 146 Wythe Ave at North 8th St, Williamsburg, Brooklyn (718-388-5328, nitanitabk.com). Wed 4pm--2am.

Beat the high scores at Barcade
At this grown-up arcade, a lineup of more than 30 classic quarter machines including Donkey Kong, Contra, Tetris, Arkanoid and Ms. Pac Man will keep you occupied for hours, but the list of 20-plus microbrewed beers is equally worthy of concentration. Get into the competitive spirit by looking up all the current high scores on the Barcade website. 388 Union Ave between Ainslie and Powers Sts, Williamsburg, Brooklyn (718-302-6464, barcadebrooklyn.com)

Groove to reggae tunes
Stop staring at the Bob Marley poster on the wall and drop by this early-evening affair dedicated to the chill sounds of roots, rock and reggae. Soak up the good vibes spread by selector Dave Hahn (from Dub Is a Weapon), Bass Culture NYC's Carter Van Pelt (host of WKCR's Reggae Riddims show) and a rotating crew of guest DJs and MCs. Motor City Bar, 127 Ludlow St between Delancey and Rivington Sts (212-358-1595). Thu 6:30pm; free.
Users say
go to six flags and go on every ride.
1- Be Aware of your thoughts and feelings. Look where do they come from, look how your logic works, for example look when you are convinced about something, fine out the mechanisms of your mind. 2- Write. Analyse some quotes for yourself. let the power of the substance convert to knowledge via writing, a powerful tool to free yourself. 3- Do prayer. when you connect to a higher energy source when you are more powerful, it charges the aura, it brings you good thoughts, good decisions you couldn't have make if you were not stoned. 4- Generally speaking, do something for yourself. Don't waste the Energy.
Play a handrum and get in touch with your primitive self.