A subway busker dishes on profitable stations and encounters with jerks
We listen to subway busker Gabriel Royal in this week's Public Eye to get the scoop on serenading the subterranean masses
By Jenna Scherer Fri Oct 25 2013
Gabriel Royal, 32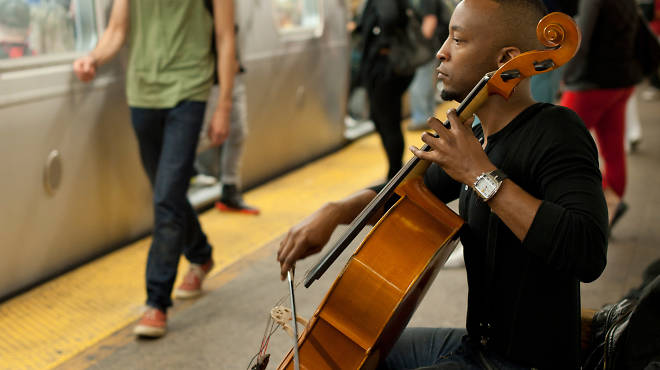 Subway busker Gabriel Royal: "You could put a choir down there and it would sound like Carnegie Hall." Photograph: Liz Clayman
How'd you get into busking? One day in 2010, I was very broke. I had a dollar, maybe, and I was trying to figure out how to get ramen and fruit punch at the same time. And I was riding the train home and I saw this dude playing who was horrible. He was screaming, like [Makes a series of terrible noises], and he had $20 in his guitar case. And I was like, Well, I'm better than this guy, so let me try it out.

RECOMMENDED: All NYC subway stories

How often do you play on the subway? It depends on how broke I am. [Laughs] But I average about three times a week. It supplements my income. I know a lot of people that just [busk] full-time, but I can't really imagine doing that. There's no job security.

What else do you do for work? I'm a teaching artist for a company called Wingspan Arts. That's kind of made my career possible, because I can go in between my own stuff and teaching. I've also been touring and doing weddings and studio work. And that's all related to people who saw me on the subway.

People come up to you on the platform and ask you to play at their weddings? Yeah. Things like that happen all the time. It's done a lot for me, careerwise.

What's your favorite station to perform in? Bedford Ave on the L train is probably the most profitable place to play. But the best acoustics are at the Metropolitan stop off the G train. You could put a choir down there and it would sound like Carnegie Hall.

What's the coolest random encounter you've had? Spontaneous dancing—dancers will just start doing the waltz. And I had two girls on the G train who harmonized with me. Just off the bat, they started doing some "Aaah"-type stuff in the background. Also, I met my last girlfriend on the subway when she saw me playing.

Nice! Any jerks? I once had a woman who was like, "It's unfair!," because I was sitting on the bench. And I was like, "Really? Bums sleep here. And I'm the guy that you're fucking with? The guy with the cello, singing you lullabies?"
Gabriel Royal performs at the 4th NYC Busker Ball at Spike Hill, 184 Bedford Ave at North 7th St, Williamsburg, Brooklyn (spikehillmusic.com). Wed 30 at 7pm; suggested donation $10. Hear his tunes at gabrielroyal.bandcamp.com.
---
What do you think? Tell us below!
Write your own review
Send tips and cat photos to:
Senior Editor: Amy Plitt (@plitter)
Editor: Marley Lynch (@marleyasinbob)
Time Out videos
---
---
@TimeOutNewYork
Subscribe to Time Out New York on Spotify for playlists and recommendations from our Music team.


Check out New York's best restaurants, hottest street style, cool apartments and more.