Albert Owens
Basketball courts at Sixth Ave and W 3rd St
By Time Out editors Thu Aug 17 2006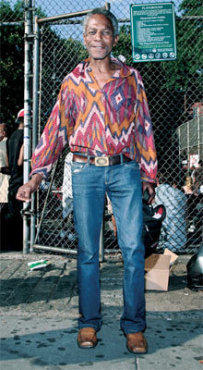 Albert Owens Photograph by Donald Bowers
MAY I ASK YOUR AGE? "Yes, you may."
ARE YOU WATCHING THE GAME? "Nah, I'm kind of a flutter brain. I wander around, see the sights, enjoy the music of the city. I walk the streets a lot."
OCCUPATION: "I don't have a job. Sometimes I do performances in the park. Hilarious, stupendous things. I'm very clever, under the right circumstances. I have no material, I have no act, I just act out and I usually succeed."
"I'm a snappy dude, but these are just clothes. I buy whatever appeals to me—interesting old clothing."
Snap up a wild print of your own at Alpana Bawa (70 E 1st St, 212-254-1249), where men's button-downs start at $100.
--Market editor Kristina Dechter, edited by Kate Lowenstein