Allen Hulsey, 23
Bowery between Prince and Rivington Sts
By Kate Lowenstein Thu May 22 2008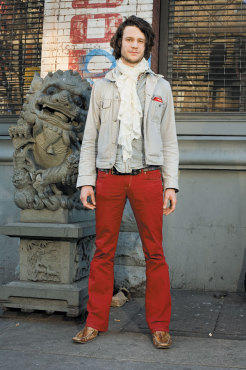 Photograph: Jay Muhlin
How often do people say you look like Heath Ledger?
Probably about three times a day. The afternoon he died, I went down to his apartment and played guitar on the sidewalk. I made $200.
Um, exploitative much?
I'm a capitalist. And I was really short on cash at the time.
How else do you make money?
I give guitar lessons, and I teach kids music at a school uptown.
Jack Black--style.
[Laughs] Well, kind of. We play "The Wheels on the Bus" and stuff like that. I also play on the subway a lot.
So you know how to time your songs perfectly between stops?
Yeah. The harder part is not falling over. It's like surfing.
Where are you from?
I was born in New York but I grew up in Turkey. I also lived in Germany. And Dallas.
Dallas—exotic.
[Laughs] Yeah, right? There are different values in Turkey: People are really generous and there's more of an emphasis on friendship and family.
Think you'll go back?
Maybe. If I did, I'd do a TV series about an American who wants to become Turkish. I'd join the army and marry a Turkish girl and that whole thing. I think my band would have more luck if it were on a TV show.
What's your band called?
I play guitar for a lot of bands, but Emperor City Motorcade is my priority.
Got lots of groupies?
[Laughs] We try to keep 'em around.
Do you ever get panties thrown at you?
A few. We put 'em up in the studio. Once the whole wall is covered, we'll figure we've made it.
More thoughts from Allen
"I'm going to the opening night of The Dark Knight in July, dressed as the Joker. Why not?"
"No, this isn't a wedding veil!"
"A song I'm working on right now goes, 'I live for music, baby, would you live for me?' I'm not necessarily more in love with my music than anyone I'll ever date, but the guitar has never let me down, you know? It gives back more than people do sometimes."