Amy Eschman, 29, and Richard True, 33
28th Street between Ditmars Boulevard and 21st Avenue, Astoria, Queens
By Time Out editors Thu Nov 16 2006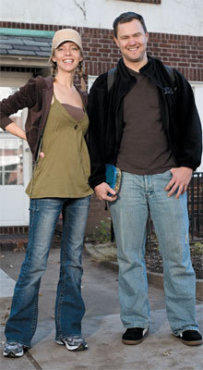 Amy Eschman and Richard True Photograph by Jay Muhlin
Amy: "I'd say my style is a cross between feminine and masculine."
Rich: "This is my just-woke-up, stayed-up-really-late-last-night look."
Feminine or masculine, cover your bedheads with a good cap. This one is $24 at Urban Outfitters (urbanoutfitters.com).
Where do you live? Richard: In Astoria. I've been here for eight years, and Amy's been here a year.
Amy: I lived in Manhattan for a long time. I like it out here better.
Richard: It feels like we're living in the country—people say "excuse me" when they bump into you.
We might as well be in the Midwest, huh? Amy: [Laughs] Close enough. I'm from the Midwest—Oklahoma-raised.
Richard: And I'm from Alabama.
Where are the drawls? Richard: We're actors, so we got rid of 'em. It comes back with drinking or fighting.
Amy: Or being with your family.
Synonymous for some people. What kind of work do you do? Richard: Musicals, mostly. Lots of Andrew Lloyd Webber rock opera kinda stuff.
Amy: All kinds of theater and occasionally film.
Richard—do you go by Rich or Dick? Just Rich. This one dude, Greg Guzman, picked on me in eighth grade—he's the only guy who ever called me that. So whenever I hear it... I know I'm smiling but it's actually a little painful.
Amy: [Laughing] My screen name is Dickie's Girl.
How long have you actually been "Dickie's" girl? Amy: About a year and eight months. We were in class together for a long time before that.
Rich: We were working on a project together, and we decided to have a couple of drinks. After two Tanqueray Tens, she said something really subtle that made me think of her in a different way, and I was like, "I have to have her." So I pulled one of those grabbing-her-and-kissing-her moves out of nowhere.
How dramatic. Amy, did you see it coming? I saw it coming all right! [Laughs] And we've been together ever since, so I must have been ready for it.—Kate Lowenstein