Andre J
Bearded supermodel and downtown socialite Andre J. (n Johnson) is primed to be NYC's next It boy. Or girl. Or, well, you know what we mean.
By Dana Schuster Thu May 22 2008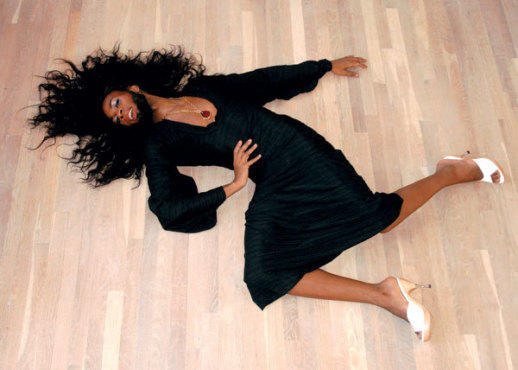 You love wearing women's clothes, but you don't consider yourself a cross-dresser. Huh?
I am an individual. I am someone who is extremely fashion-forward. I am someone who has X and Y chromosomes, and I utilize them both. I am genderless. I am love, baby. Love, love, love, love, love. Love of living!
What are you wearing right now?
I'm wearing a beautiful, clean, snakeskin-print caftan. I'm barefoot and in touch with the earth. I am fresh and alive.
What do you make of the recent Vogue cover with Gisele and LeBron James?
When I see LeBron James on the cover of Vogue, I just think, Amazing talent. I don't get King Kong. When I see Gisele, I see beautiful, stunning Gisele. I didn't see it as anything more than two humans who are excellent at what they do.
Is Tyra Banks overrated?
Tyra Banks is fantastic. She started as a model and is now this amazing entrepreneur. Who isn't inspiredby that?
You're famous for your beard. How much do you think Tom Cruise is paying Katie Holmes to be his?
No. I don't have any response to that. You are bad. [Laughs]
Have you ever been mistaken for a transsexual prostitute?
Oh goodness, I hear it all the time, honey! It was shocking at first: In my mind, I was like, A trannie doesn't have a beard! [Laughs] Now it's entertaining. People insist on finding some way to categorize. It's not about me, it's about them.
More thoughts from Andre J.
Think how Andre J. thinks: "When I wake up in the morning, the first thing I say is 'Thank you for waking me up this morning.' Then I look in the mirror and say, 'You are beautiful!' The third thing I say is, 'I am going to have a fantastic day!' "
Shop where Andre J. shops: "Patricia Field is the best place for small men seeking women's clothing. When I worked there, it was marketed to both genders. It's a playland!"
Andre J. will be teaching a four-week "Strut the Catwalk" class starting Sat 24. E-mail ajrunway@gmail.com to register.
Share your thoughts