Andrew Gerhan, 34
Berkeley Pl at Fifth Ave, Park Slope, Brooklyn
By Time Out editors Thu Feb 5 2009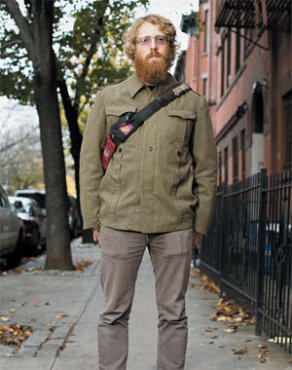 Andrew Gerhan
Photograph by Jay Muhlin
You look like you stepped out of my parents' 1970s photo album. [Laughs] Everybody else does too much shaving, so I gotta do a little something to make up for all the people with commitment problems.
How long have you been committed? About two and a half years.
That's a lot of leftover-food storage. Daily shampooing and conditioning is key.
What do you do? I'm a freelance music engineer. Indie rock and folk music, mostly. Lately I've been doing stuff for Pitchfork TV and Matador and other labels.
How's business these days? Good. I'd been moonlighting as an engineer in San Francisco for a long time and I wanted to have a go with it full time, so I moved here.
What was your main gig in California? I was working in a physics lab making thin films for superconductors.
One more time, in English! I was making really thin layers of things on top of other things. Mostly it was particle-accelerator technology.
So your thin films could've contributed to an accelerator tearing a hole in the space-time continuum? Oh, uh...hopefully! [Laughs] That's what we were going for.
Terrifying! Though I don't really know what the space-time continuum is. That's okay, neither do I.
More from Andrew
"I'm headed over to Gorilla Coffee. It's where I bean up—they roast their beans strong."
"I just finished reading Gravity's Rainbow. When I was underemployed I was able to get through it. I think it was worth it, but I can see why people would see it as unintelligible. It gets pretty loose."
"I just saw a Dan Higgs show a couple nights ago. It was fantastic. It was at the Silent Barn in Queens, which is an under-the-radar space. It's kind of like an artists loft. I usually like it better when there's less engineering to live music, when shows are smaller and with acoustic sounds. I find that more enjoyable than when it's a big rock production."
—Kate Lowenstein