Andrew Lathrop, 42
Broadway at Liberty St
By Kate Lowenstein Thu Jan 22 2009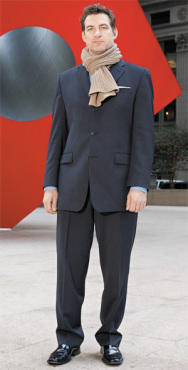 Photograph: Jay Muhlin
What do you do?
I'm the senior creative director at [financial trade publisher] SourceMedia.
Do you have to actually read all that dry content in order to illustrate it?
Yes—I have to understand it. Or try.
Why design?
I took it as a blow-off class in high school and realized where my talent was. I've been doing it ever since.
A straight-shot career path. Ever wonder what it'd be like to, say, go be a rancher in Utah??
[Laughs] That I could do. I'd have to save a few pennies first.
Luckily you read about money. Speaking of which, do you notice a difference in this 'hood lately?
Oh, yes. Long faces—I see 'em every day. People just don't have the same kind of energy. I'm dealing with my own issues, too—I'm engaged to be married in April, and my fiance and I just spent the last two weeks trying to come up with ways to have a wedding for $10,000 in New York. It's just not that easy to do.
Don't you think men should wear engagement rings, too?
[Laughs] Well, I got my fiance an engagement ring for $125 at the MoMA Store. It was just a silver silhouette of a solitaire.
Was she disappointed not to get a big ol' rock?
She wasn't.
Sounds like you're marrying the right woman.
She made me ask her twice— she didn't believe me the first time. Then she woke me up at five the next morning and asked me to ask her again. [Laughs] I definitely am marrying the right woman.
More from Andrew
"Working in this neighborhood, I started wearing much more conservative clothes than ever before. I lived in Bushwick for a while, so I experienced this really bizarre culture clash riding the J train."
"I occasionally see people on the subway with these e-book things. I don't get it. I wouldn't do it. Printed matter is a palpable, tactile thing you can carry around with you. I carry magazines around with me. They're never going away. I think eventually the whole online information silo is going to settle out and it'll have its place and magazines will have their place."
"I grew up in Berkeley, California. I love the geography out there; living in the Berkeley Hills as a kid was a wonderful place to be. But in the Bay Area there's a homogeneity in attitude and mind-set-it's not unlike being in D.C. where you have to be a politico. In the Bay Area, you're trying to be green and save something all the time. What I like about New York is that you can feel comfortable saying what you want without fear of retribution."