Anita Storr
72nd St and Lexington Ave
By Time Out editors Thu Mar 19 2009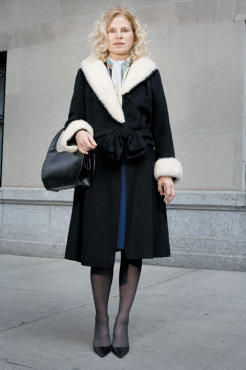 Anita Storr
Photograph: Jay Muhlin
Were you the victim of childhood prank calls? Along with Anita Beer? [Laughs] My first name could have been Candy! Storr is my married name, anyway—my late husband's name.
You know, those of us who are crowded into the outer boroughs come to the Upper East Side and think, Who lives here?!? It's such a different world. [Laughs] I do feel that. It's very homogenous—I'm not saying that in a negative way, it is what it is. People flourish here! I grew up in Flatbush and went to public school. My children had a different upbringing—they had that Leave It to Beaver type of backyard with swing sets and a sandbox and all that. They both went to girls' schools.
What are you up to? I'm on my way to a fitting for a part in a movie, Salt.
Who are you playing? It's a small role. I'll be part of a group at a cemetery. I'm supposed to be a dignitary, mourning the loss of a dear friend.
Are you a full-time actor? No, acting is a side thing that I'm new to, and really excited about.
How old are you? I'd rather not say.
Part of the business, eh? Yes. You expected that answer, didn't you?
I did. So what's your day job? I'm a designer. I have a collection of costume jewelry and hair accessories that I sell across the country.
So do you need a store, Anita Storr? No, Kate, a showroom does just fine! [Laughs]
More from Anita
"We found a beautiful house on 62nd Street and decided to buy it in the '70s. The city was bankrupt at that time so you could buy brownstones at a decent price compared to now."
"In Salt, Angelina Jolie plays the role of a man—she's a CIA operative hiding out to prove her innocence. Originally Tom Cruise was supposed to [play the role], but then they decided to switch it to her.... She's been on a very severe diet, it's like 21 pounds in 21 days."
"I've been on Law & Order a couple of times. I'm also in Cupid, a remake of something from 1998. And Gossip Girl: I was a schoolteacher watching a play. And last week I did something for MTV: It was a pilot called Silent Library. It should be very funny. I'm going to start from where I am—at the bottom—and work my way up"
—Kate Lowenstein