Ann Yee, 24, and Layla Khoury-Hanold, 24
Prince Street between Mulberry and Mott Streets
By Time Out editors Thu Jun 29 2006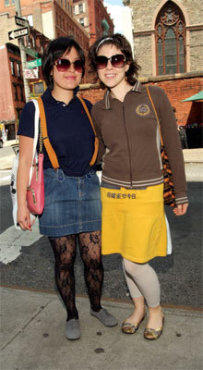 Ann Yee and Layla Khoury-Hanold Photograph by Donald Bowers
NATIVE NYERS? Nope. Both originally from Michigan, but met in NYC.
OCCUPATION: Ann: fashion designer; Layla: assistant to the president of Anna Sui
WEEKEND RITUAL: Brunch at Cafe Gitane (242 Mott St), then bargain hunting at Ave A flea market.
CAREER GOAL: Layla: "I told Ann that I'd be her backer when I make enough money. We complement each other well."
THE LOOK: Ann: "Old School meets new school." Layla: "I'm a chameleon—it changes depending on the day. Today is downtown casual."
EVER RETURNING TO MICHIGAN? Ann: "Umm, for vacation." Layla: "Umm, for vacation."
"I love suspenders. I'm addicted. They're so useful for pants that fall down. I think I have six different pairs." Avoid plumber's crack at Screaming Mimi's (382 Lafayette St), where suspenders start at $15.
Yes, they're matching sunglasses. Newly purchased from a West Broadway street vendor. Prefer a bricks-and-mortar joint? Try Fabulous Fanny's (335 E 9th St), where oversize shades start at $80.
"This dress has Japanese characters on it and the name Suzuki on the back. I got it in Cheltenham, England." Non-jetsetters can find Eastern delights at Urban Outfitters (urbanoutfitters.com), where character-adorned threads start at $48.
--Market editor Kristina Dechter, edited by Kate Lowenstein