Anu Nagaraj, 27
Ludlow Street between Rivington and Stanton Streets
By Time Out editors Thu Jun 15 2006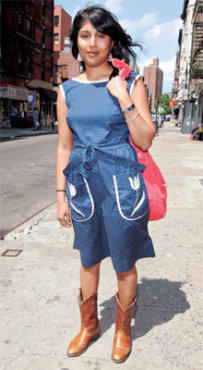 Anu Nagaraj Photograph by Donald Bowers
DESTINATION: "Tiny's Giant Sandwich Shop to get a make-your-own sandwich—they're fantastic and they're only $3.50."
FAVORITE SANDWICH: "Avocado, Swiss cheese, sprouts, carrots, pickles and green-herb mayonnaise on a semolina roll. We don't go to brunch anymore—we go get sandwiches and eat them on the stoop."
OCCUPATION: Special-effects artist at postproduction facility the Mill
THE LOOK: "Messy. I'm usually pretty disheveled. You caught me just as I left the apartment, so I probably look more put-together than I normally do."
"I lost a pair of mother-of-pearl earrings that my mom got me, so I bought these sailboat ones from the '20s to replace them."
Hit the mother lode at What Comes Around Goes Around (351 Broadway) where vintage earrings start at $40.
"I found this apron dress for $20 at a thrift store in Brooklyn. It must have belonged to some woman with huge hips in the '50s. I got it taken in. It's good for hot days to sit outside and have a picnic."
Try your hipster luck at Buffalo Exchange (504 Driggs Ave, Brooklyn), where vintage dresses start at $15.
"I'm wearing all vintage aside from the neon-orange bag, which I got ages ago at the Marc Jacobs store."
Marc by Marc Jacobs (403 Bleecker St) carries bags from $200.
"The boots are default—I was just going out to get a sandwich! They're also from a thrift shop."
Mosey over to Family Jewels Vintage Clothing (130 W 23rd St) for cowboy boots starting at $100.
--Market editor Kristina Dechter, edited by Kate Lowenstein