Art classes
Break out your inner Pollock or Chihuly-we've got art classes for every budding painter, sculptor, glass-blower and photographer.
By Kyle McGovern Thu Mar 12 2009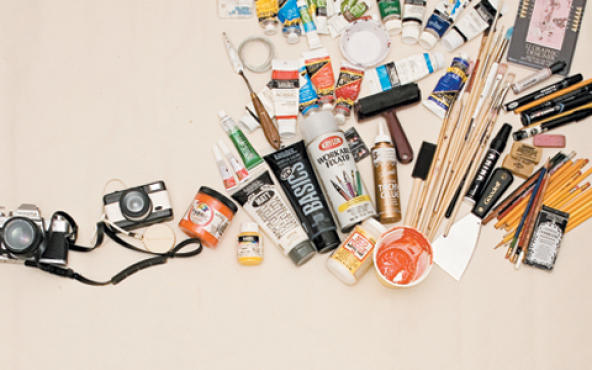 Date: January 1, 2009 1:50:16 PM EST
To: inyc@timeoutny.com
Subject: art classes in nyc
I'm looking for some art classes in NYC, especially some held on weekends. Do you have any advice on where I should look? And preferably ones that are not expensive?
Thanks for your help!—Jeff
For immediate art
The Salmagundi Club (47 Fifth Ave between 11th and 12th Sts; 212-255-7740, salmagundi.org) is perfect for beginners interested in the basics. As part of NYC's art community for over 130 years, Salmagundi hosts classes that aren't selective (walk-ins are welcome) or expensive (prices range from $7 to $15). Sketch sessions take place on Monday and Wednesday nights, but there are painting demonstrations on Saturday and Sunday mornings, should you wish to cure a hangover with high art.
For mixed-media
If you're interested in a well-rounded curriculum, stop by the 92nd Street Y (1395 Lexington Ave at 92nd St; 212-415-5500, 92y.org). Starting March 29, you can treat yourself to seven sessions on portraiture or sculpture (both priced at $265), or collage ($260), starting March 25—and lots are on weekends.
For weekend warriors
Spending Sundays back at school: Your inner child will wail, but your skills will get a boost from the Visual and Performing Arts program at The New School (66 W 12th St between Fifth and Sixth Aves; 212-229-5108, newschool.edu/generalstudies) to study painting and photography ($285 and $570, respectively, for six sessions). Spring classes start soon and admission is open to people of all skill levels.
For determined drawers
Develop your doodling skills—or call it figure drawing if you're going to be professional about it—at the Spring Studio (64 Spring St at Lafayette St; 212-226-7240, springstudiosoho.com), which holds classes every day of the week, weekends included. Registration is ongoing and sessions cost $14, with some less than ten bucks each if bought in bulk.
For artists of any age
At the Art Students League of New York (215 W 57th St between Seventh Ave and Broadway; 212-247-4510, theartstudentsleague.org) the term student doesn't apply only to self-important 19-year-olds in Che Guevara T-shirts. "We're committed to offering an art education for anyone who is interested," says Ken Park, the league's director of communication. "We have older people who are in their seventies just getting their first gallery shows," he says. The eclectic course catalog includes more classical work, like printmaking, but you can also spend your weekends welding. Monthly tuition usually falls around $200.
For breakable beauty
To experiment with some unique mediums, check out Urban Glass (647 Fulton St at Rockwell Pl, Fort Greene, Brooklyn; 718-625-36865, urbanglass.org), the largest glass center in the country open to all artists. Although they do have weekend workshop classes—most running between $200 and $400—you'll get more bang for your blow (and buck) if you register for a full course.
More You asked for it >>