Arthur "Kendu" James, 39
West St between Christopher and W 10th Sts
By Time Out editors Thu Oct 9 2008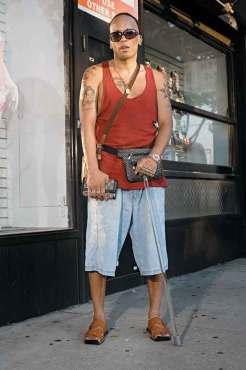 Arthur "Kendu" James
Photograph: Jay Muhlin
Are fanny packs hot these days? This thing? Nah. I just like to be different. I like attention.
Limelight hog? [Laughs] Yeah, definitely. There's something about it. Me and my girlfriend are in photos in the window of the Arnold Hatters store near 36th Street. We're no joke: We'll grab a couple Stetson hats, alligator boots with spurs, guns and holsters, and people take our picture on 42nd Street. We have fur coats, too—chinchilla and fox—and crazy contacts, like glow-in-the-dark ones.
What's your favorite look? Pimpy.
Like, manager of prostitutes? Nah, we don't promote that. Pimp means "putting paper in my pocket."
Where's Kendu from? It's my Islamic name. I belong to a group called Nations of God and Earths. They believe that 85 percent of the people are poisoned animal-eaters and slaves of mental death and power, 10 percent are bloodsuckers of the poor, and we consider ourselves 5 percenters: poor, righteous teachers.
Pimping and chinchilla notwithstanding. Poor also means "humble." I consider myself to be humble.
Humble but a limelight hog? Yeah, I love my limelight. Just the other day, I wore a lime hat with a long pink feather. Everyone said I brightened up their day with it. I felt so good when they said that.
More from Arthur
"This is a family portrait, with my daughter and granddaughter. I got the tattoo at Lee's in the Village. It says "Fonzzy,' as in Arthur Fonzarelli-Happy Days was the best show of the '70s. That and The Brady Bunch."
"One of my favorite singers is Alanis Morissette. I love her. You know the song that goes, 'I'm brave but I'm chicken shit'? That's my favorite one."
"New York was once called New Amsterdam. Then the Duke of York called it New York. Well, Giuliani made it New Giuliani. He changed it. I ain't gonna lie, in some ways it's better—they fixed it up. But I liked the old, dark New York. The grim, grimy New York. I mean, of course I like to feel safe when I walk down the block, but now clubs close at 4. I miss the time when you could go to a party on Friday and leave Monday."
--Kate Lowenstein