Artsy Queens
By Time Out editors Thu Apr 9 2009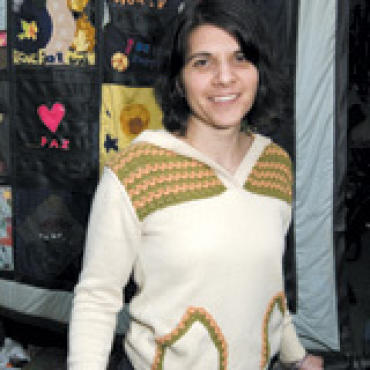 Meet your guide
Pasqualina Azzarello is the executive director of Recycle-A-Bicycle (recycleabicycle.org), a youth-training and environmental-education initiative and bike shop. The 34-year-old biking enthusiast has piloted RAB projects that involved both recycled arts and mapmaking.
About this ride
"Biking in Queens is full of surprises," says Azzarello. "Residents make use of the freedom that comes with being outside Manhattan." This 15-mile route captures the artier side of the borough. On Sunday 19, stop by RAB's Long Island City warehouse (5th St at 46th Ave) from noon to 2pm and learn how to transform small bike parts into jewelry (suggested donation $10). —Rebecca Dalzell
Scroll over each number to see route highlights. Pause to view multiple photos.
Photographs: Eric Harvey Brown
Biking directions
Start in Long Island City, where industrial sites have become creative hubs. Visit Socrates Sculpture Park (32-01 Vernon Blvd at Broadway; 718-956-1819, socratessculpturepark.org; daily 10am--sunset) a landfill-turned-free-outdoor-space, and take in the meditative sculptures at the Noguchi Museum (9-01 33rd Rd between Vernon Blvd and 10th St; 718-204-7088, noguchi.org; Wed--Fri 10am--5pm; Sat, Sun 11am--6pm; $5--$10), which showcases the artist's simple, meditative sculptures and landscape design. SOS? Get fixed up at Bicycle Repairman Corporate (40-21A 35th Ave between Steinway and 41st Sts; 718-706-0450, bikerepairman.com).
Head south on Vernon Boulevard toward Queens Plaza. Follow the bike lanes on 39th or 43rd Avenues, and cut over to 34th Avenue, which makes up the bulk of your route. You'll pass through "quintessentially Queens neighborhoods, with brick houses, parks, international markets and a wide variety of street vendors in Jackson Heights," says Azzarello. Take a break with a Colombian cholado, a fruit-and-shaved-ice shake, from El Palacio de los Cholados (83-18 Northern Blvd between 83rd and 84th Sts, no phone).
Cool off on the breezy Flushing Promenade and admire the view of "water, land, city and sky"; Azzarello says this is where "the natural and industrial worlds meet in a blatant way." Visit the site of the old World's Fairgrounds before heading to the Queens Museum of Art (New York City Building, Flushing Meadows--Corona Park; 718-592-9700, queensmuseum.org; Wed--Fri 10am--5pm; Sat, Sun noon--5pm; suggested donation $2.50--$5). "While art museums and galleries can often feel removed from the cultures and geography that surround them, the Queens Museum of Art welcomes reminders of them," she says. "Fittingly, one current exhibit is 'Queens International 4, which highlights the work of global artists living or working in Queens.'"
Ride back to Long Island City along 34th Avenue, and ogle the graffiti at 5 Pointz (Jackson Ave at Davis St, 5ptz.com),"an ever-changing outdoor public-art installation that completely covers a building of artists' studios." End your day at nearby P.S.1 Contemporary Art Center (22-25 Jackson Ave at 46th Ave; 718-784-2084, ps1.org; Thu--Mon noon--6pm; suggested donation $2--$5), where you can check out "And/Or," Jonathan Horowitz's video and photographic musings on pop culture. And be sure to look out for Pipilotti Rist's tiny video wedged in the floorboards of the lobby—"an unexpected reward for keeping your eyes open," says Azzarello.
Take the ride Download a pdf of the directions.
See more in Own This City
See more Bike tours