Ashily DuBosu, 29
Park Ave between 124th and 125th Sts
By Time Out editors Thu Mar 5 2009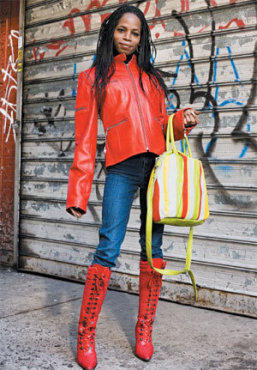 Photograph: Jay Muhlin
What are you up to? It's my day off. I just got my lashes done and now I'm going to get my braids tightened.
What's your day off from? I'm an HIV tester, educator and counselor with VIP Community Services. A lot of people are uneducated about HIV and how it's affecting our community, especially in Harlem.
Have you seen attention to HIV wane over the years? Yeah, I think that's what's happening in our community. The life expectancy with HIV is 15 to 30 years and it's kind of, like, taking away from the fear of contracting the virus. In the black and Hispanic community, the perceived life expectancy is just about that—25 to 30 years beyond coming of age at 18, anyway. That's the mind-set.
That's depressing. How do you keep it together? Enh. Long baths...a lotta candles and a lotta Sade. [Laughs]
And some really nice red boots. Do those get you some crazy catcalls? I usually have my headphones on—like just now, when you had to run to catch up to me. I really don't even wanna hear them. It's like, Yo! Shorty! Can I come over tonight? It's like, My God, you didn't even ask me what my favorite color is.
He can probably tell that without asking. [Laughs] Well, actually, red is not my favorite color. I like green. See? And you would have made that assumption. [Laughs]
More from Ashily
"I'm part of a gay house in New York, in the ballroom community. It's called Bouswa. You don't have to be gay in order to join. This particular house does a lot of community work. They also give me a sense of family and unity, which I personally don't have."
"I was born and raised in Harlem on 139th Street: Strivers Row. It's called that because a lot of African-Americans used to live there—though I think they're being bought out now. I think it was called Strivers Row because they had to strive to get those nice brownstones."
Ashily says: "I'm dating a U.S. Postal Service worker. He's a good guy. We've been dating about six months. And no sex! And that's on his part. You can quote me on that. He's old-school.... He says it's about companionship. But for me, being 29 years old, it's like, Companionship? What the hell is that?!? Hello? Can a sista get some?"
—Kate Lowenstein