Ato Blankson-Wood, 22
Union Square
By Time Out editors Thu Oct 19 2006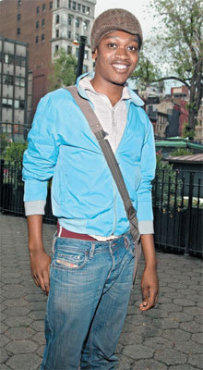 Ato Blankson-Wood Photograph by Donald Bowers
"This hat is from Urban Outfitters. I probably single-handedly fund that entire operation."
Give in to the trendy temptation. Urban Outfitters (urbanoutfitters.com) has these hats for $24.
What are you up to? I just left work and I'm on my way to yoga.
Where's work? I'm a waiter at Bubba Gump's in Times Square.
How's that? Enh. There are so many people in New York trying to be actors and I'm one of them. I don't want to be the best waiter, I'd rather be the best actor. So I don't put my time and energy into it. It's just a job.
Am I right that your name means "born on Saturday" in Ghana? Yes, it does! How'd you know that?
Interviewers know all. So do you live for Saturdays? I do! Especially Saturdays in August 'cause that's when I was born. August is the best month there is.
Not that you're biased or anything. Are you from Ghana? My parents are. They immigrated to New York, where they met, and then moved to Maryland, where I grew up.
Have you been there? Yes, twice. It wasn't a culture shock at all, because my parents have always spoken the language, Fanti, to me, and we've eaten traditional food all our lives...so it wasn't a big change.
So what sort of acting do you do? I'm especially into musical theater right now.
Got your eyes on any particular shows? I'd be on Broadway tomorrow if I could. I'd love to be in Hairspray or The Color Purple. Those are my two favorites.
Have you always been an actor? It's funny you ask—I was just talking to my sister about that. It's such a frustrating field to be in, but at the same time it's the only thing I've wanted to do since I was eight.
So do you always let your underwear show? [Laughs] Yeah, always. I don't ever wear belts, specifically to show off whatever trendy underwear I'm wearing. I definitely plan my outfits down to the underwear.
In case you're asked to strip during an audition? [Laughs] Right, exactly.—Kate Lowenstein
Market editor Kristina Dechter