August 2013 events calendar for New York City
Plan your month with our events calendar of the very best activities, including free things to do and our picks from theater, the arts and music.
Photograph: Courtesy Shakespeare in the Park
Tue May 28 - Sun Aug 18: Shakespeare in the Park
Featured events in August 2013
---
Free events in August 2013
Over the years, this outdoor boxing event has evolved into a quasi-spiritual, international public beatdown. This summer's fight features Muay Thai, an ancient Thai precision-fighting style known as "The Art of Eight Limbs" because it utilizes all body parts that have the ability to whackÑpicture MMA, but without all that awkward "ground work." For one night only, Pier 84 will host a free match featuring local amateur practitioners of the sport.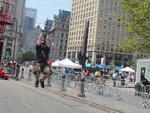 From Park Ave at 72nd St to Centre St at Brooklyn Bridge; visit nyc.gov/summerstreets for details. For this three-Saturday event, nearly seven miles of NYC turfÑfrom the Brooklyn Bridge all the way to Central ParkÑwill be cleared of vehicles, creating a pedestrian paradise complete with food and entertainment. This edition's offerings are still being finalized, but previous years have included free bike rentals, a rock-climbing wall, a zip line and picnics along the route. Be sure to keep your eyes peeled for outdoor art installations.
Brooklyn Bridge Park makes use of its newly renovated spaces for a series of readings from six of the best independent bookshops in the borough. Each store welcomes readers who reflect the flavor of its establishment.
---
Watch this 2012 musical along the Hudson River.
Price band: 1/4
Critics choice
Say his name three times. You know you want to.
No movie encapsulates Hitch's control-freak personality quite as vividly as this tortured romantic masterpiece, in which Jimmy Stewart falls in love with Kim Novak, watches her die, then becomes obsessed with re-creating her cool-blond image.
See more outdoor film screenings in August 2013
---
Theater events in August 2013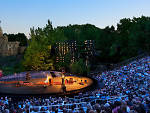 This annual festival, which begins in June, presents the Bard's greats performed in open air at the Delacorte Theater in Central Park. Created by the late Joseph Papp and presented by the Public, Shakespeare in the Park has endured not just because it's a night of free theater in New York's backyard, but because it's a night of great performances by some of the most talented actors of our day, including Meryl Streep, Kevin Kline, Al Pacino, Oliver Platt, Blythe Danner, Philip Seymour Hoffman, George C. Scott and Denzel Washington.
Delacorte Theater
Tue May 28 - Sun Aug 18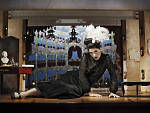 New York International Fringe Festival
Each August, New York straps itself in for this annual theater megafest, in which scrappy performers and troupes from around the world descend on the city, raw talent (or lack thereof) in tow. Choosing between the nearly 200 shows on offer is a game of theatrical Russian roulette: You never know which alternamusical, one-woman confessional or puppet ballet will be the next underground hit, and which will be a self-indulgent flop. But hey—it's cheap! 866-468-7619, fringenyc.org. $18, advance $15; discount passes available for multiple shows.
Various locations
Fri Aug 9 - Sun Aug 25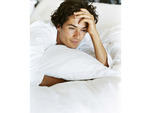 Shakespeare's timeless romantic tragedy returns for a contemporary stage revival, starring Hollywood pretty boy Orlando Bloom. It marks the Broadway debut of the Lord of the Rings and Pirates of the Caribbean star, who will play Montague to Tony nominee Condola Rashad's Capulet. In David Leveaux's modernized staging, the star-crossed lovers are divided by racial tensions (didn't West Side Story already cover that…?), though they'll still employ the Bard's original language. It's the play's first time on the Great White Way in 36 years, so get those hankies ready.
---
Music events in August 2013
---
Arts events in August 2013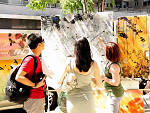 More than eight decades ago, New York artists Jackson Pollock and Willem de Kooning propped up a few of their paintings in Washington Square Park and called it a show. A lot has changed since then: Now, more than 100 artists and artisans—including painters, sculptors, jewelers and glassblowers—exhibit their wares at the Washington Square Park Outdoor Art Exhibit.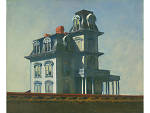 Price band: 2/4
Critics choice
Despite having its head turned by the 20th-century European avant-garde, MoMA has always kept a place in its heart for domestic works. In fact, Edward Hopper's House by the Railroad, included in this exhibition, was the first painting in the museum's collection. Check out moody pieces from 1915 to 1950 that illustrate the major themes and styles of the period: the rise of cities and industry (John Marin's abstract watercolors of lower Manhattan), rural scenes (the haunting Christina's World by Andrew Wyeth), still-life and portraiture.
---
You might also like
---