Best pizza in New York City
By Time Out editors Wed Aug 6 2008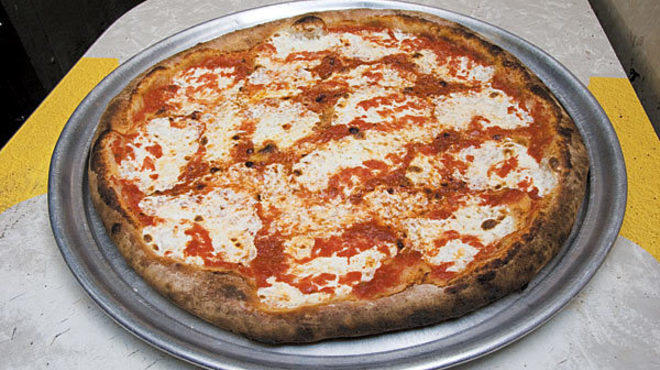 Totonno's Photograph: Cinzia Reale-Castello
RECOMMENDED: Complete New York pizza guide
Owned by the Denino family since 1937, this white-brick tavern is all about the crust. The pizza here has the most unusual bottom you've ever seen—in a good way. Bread crumbs are added, rather than cornmeal. A slice is just thin enough to be crunchy, yet strong enough not to flop. The company slogan: "In crust we trust." Travel: From the Staten Island Ferry, take the S44, S59 or S94 bus to Hooker Place/Carlo Denino Way. Daily noon–11pm.
524 Port Richmond Ave, (between Hooker Pl and Walker St, Port Richmond), 10302-17
More info
Price band: 2/4
Critics choice
Septuagenarian artisanal piemaster Domenic DeMarco continues to roll out magnificent creations his way. Perfectly charred, his pies are swimming in sweet tomato sauce, hand-torn mozzarella, fresh herbs and drizzles of olive oil. Waits can be obscene, but nobody does it better—you don't want to rush this guy. Subway: 2 to Avenue J. Tue–Sun noon–10pm.
Price band: 2/4
Critics choice
This place has emerged as a Brooklyn phenomenon of sorts, drawing pizza pilgrims from across bridges and tunnels—and comparisons to Di Fara and Totonno's. Franny's uses locally sourced, sustainable ingredients, such as organic eggs, combined with old-world equipment (a wood-fired oven) to create bubbly, browned pies. Individual-portioned pies with clams, chilies and parsley are always a hit. Subway: B, Q to Seventh Ave; 2, 3 to Bergen St. Mon–Thu 5:30pm–11pm; Fri 5:30pm–11:30pm; Sat noon–11:30pm; Sun noon–10pm.
295 Flatbush Ave, (between Prospect Pl and St. Marks Ave), 11217
More info
This place was founded in 1990 by Patsy Grimaldi, a nephew of Patsy Lancieri (the man behind Patsy's). Some critics say the standards have dropped, but the joint is crowded, the jukebox still honors Sinatra and the pizzas remain works of virtuosity: thin crust covered with a mozzarella-to-sauce ratio that achieves the Platonistic ideal. Subway: A, C to High St; F to York St. Mon–Thu, Sun 11:30am–10:45pm; Fri 11:30am–11:45pm; Sat noon–11:45pm.
1 Front St, (at Old Fulton St), 11201
More info
Joe & Pat's
For the thinnest and crunchiest of pizza, head to Joe & Pat's. Alovely black-brown sear engulfs the entire outer edge, which has nary a lip at certain points along its circumference. The sauce, made of imported Italian canned tomatoes and herbs (basil, oregano), is slightly sweet, while the warm raw-milk mozzarella is strategically placed in cubes and caramelized in spots. Pizza is available by the slice (for $2). And, yes, you'll want a second. 718-981-0887. Travel: From the Staten Island Ferry, take the S61, S62, or S64 bus to Victory Blvd/Manor Rd. Mon–Thu, Sun 11am–10:30pm; Fri, Sat 11am–11:30pm.
1758 Victory Blvd at Manor Rd, Staten Island
Most of the best old-school pizza joints sell by the pie only. But Joe's is that rare exception: It's a haven for thin-crusted, crunchy slices. Owner Pino Pozzuoli prepares sauce every six hours from fresh tomatoes and will put fresh mozzarella on a slice if you want it. Folks line up to get inside the cramped space. In search of sustenance on an all-nighter? It's open 24/7. Subway: A, C, E, B, D, F, V to West 4th St. Daily 24 hrs.
7 Carmine St, (between Bleecker and Sixth Ave), 10014-44
More info
If your grandma made pizzas—you don't see many female pie makers even today—they might look something like the ones at this Garment District gem. The superthin crusts are rectangular and have crisp raised edges, with ample char and some nuttiness. Each slice is covered with delicious, tangy sauce and a perfect square of melted mozzarella. Those in the know order the plain pie and try to snag an extra-crunchy corner slice. Subway: N, Q, R, W, 42nd St S, 1, 2, 3, 7 to 42nd St–Times Sq. Mon 11:30am–4pm; Tue–Fri 11:30am–3pm, 3:30pm–8:45pm.
221 W 38th St, (between Seventh and Eighth Aves)
More info
Supposedly, this is where it all began: Gennario Lombardi opened the shop in Soho in 1905—the first pizzeria in the U.S. It's hard to vouch for how the pizzas tasted a century ago, but there's more elbow room now after a renovation a couple of years ago, if not the charm of the old-time joint. Still, Lombardi's continues to bake a hot contender for best pie in the city. Subway: 6 to Spring St. Mon–Thu, Sun 11:30am–11pm; Fri, Sat 11:30am–midnight.
32 Spring St, (between Mott and Mulberry Sts), 10012
More info
Show some respect: These pies have the (rarely granted in the States) seal of approval from the Associazione Verace Pizza Napoletana. That means the flour and tomatoes are imported from Italy, and the mozzarella is made by a Neapolitan artisanal cheese maker. The blistered disks come in individual and shareable sizes. Naples 45 caters to the midtown workday throngs and is closedon weekends. Subway: 42nd St S, 4, 5, 6, 7 to 42nd St–Grand Central. Mon–Fri 7:30am–10pm.
Met Life Building, 200 Park Ave, entrance on 45th St, (at 45th St), 10166-01
More info
Both the pizza and the place are pristine. Diners sit in green booths under a pressed-tin ceiling, surrounded by black-and-white photos of old Forest Hills. Served on a traditional silver platter, the pizzas are quaint: The cheese pie is slathered with a zesty tomato sauce and dotted with melted circles of locally sourced fresh mozzarella. Owner Nick Angel is a local hero—at least as long he continues to balance his crusts' char with its soft, light interior. Subway: E, F, V, G, R to Forest Hills–71st Ave. Mon–Thu 11:30am–9:30pm; Fri 11:30am–11:30pm; Sat 12:30pm–11:30pm; Sun 12:30pm–9:30pm.
108-26 Ascan Ave, (between Austin and Burns Sts), 11375
More info
Price band: 2/4
Critics choice
Expectant diners at Mario Batali's upscale pizzeria are assigned a city, and then wait for it to be posted on a board imported from an Italian train station. It's a nifty idea, but waits can be as long as 40 minutes. The pies are cooked on flat-iron griddles, but the centerpiece here is the selection of individual-size pizzas. Toppings such as shell-on clams or lardo, thin slices of luscious pork fat, are terrific and come on a pitch-perfect crust. Subway: A, C, E, B, D, F, V to W 4th St; N, R, W to 8th St–NYU. Daily 11:30am–midnight.
Price band: 1/4
Critics choice
The slices here are rectangular, don't have a shred of mozzarella and taste best lukewarm. Baker Jim Lahey makes half-pan, thin-crust pizzas, and doughier six-foot-long pizza biancas. He transforms basic ingredients—durum wheat, water, sea salt and yeast—into crusts, then dresses them with simple toppings. The pizza bianca looks like bread, but reveals an amazing depth of flavor, redolent with salt, olive oil and rosemary. It's available to-go only—and it goes fast. Subway: C to 50th St. Mon–Sat 8am–7pm; Sun 8am–4pm.
533 W 47th St, (between Tenth and Eleventh Aves)
More info
Price band: 2/4
Critics choice
Before opening this modest little pizzeria in 1924, Anthony "Totonno" Pero worked at Lombardi's. Today, pie makers here make the stuff the same way—with fresh dough, Brooklyn-sourced mozzarella and imported Italian canned tomatoes. Spin-offs have popped up in Kips Bay, on the Upper East Side and in Yonkers, but none compares to the original. Subway: F to Avenue X. Wed–Sun noon–8pm.
1524 Neptune Ave, (between 15th and 16th Sts), 11224-27
More info
---
You might also like
---