Best things to do this week
Find the biggest and best events, activities and things to do in New York City this week, as chosen by Time Out's editors.
Rated as: 4/5
Price band: 3/4
Critics choice
David Byrne's eclectic disco musical about Imelda Marcos will have you on your feet and dancing.
Price band: 2/4
Critics choice
This up-and-coming South African comic, who made a splash on The Tonight Show, tackles his homeland, race and the influence of American culture.
Price band: 3/4
Critics choice
The button-pushing Jeselnik Offensive host tells very clever, very nasty jokes with a smile that dares you not to laugh.
Price band: 2/4
Critics choice
The shadowy art-pop faves play a schmancy gig at the Met before booking it downtown to Le Poisson Rouge.
5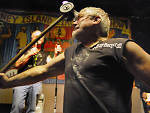 Olde Time Coney Island Strongman Spectacular
Brawny bros pull trucks and bend steel bars at this seaside showdown.
W 12th St and Surf Ave, Coney Island, Brooklyn
Sun May 19
See all recommended events this week
Time Out videos
Share your thoughts
Events calendar for New York City
The cool-kid food-and-music extravaganza is back i...

Theater review by Adam Feldman. Kazino (Off Broadw...

History and architecture buffs will relish the spe...
239

more events »