Bim Star, 30
125th St between Park and Lexington Aves
By Time Out editors Thu Apr 30 2009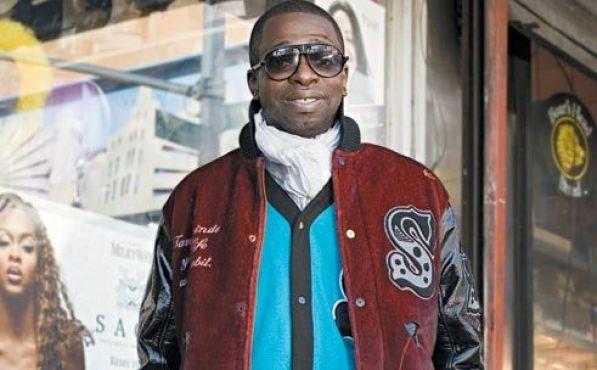 Bim Star
Photograph: Jay Muhlin
Shall I call you Mr. Star? People just call me Star. No mister. It's a nickname. I used to play basketball and I was on the all-star team.
And Bim? It's part of my name: Abimbola Afolabi. But I have to get my mom extremely angry to hear my real name. [Laughs]
Even your mom calls you Star? Yep. She calls me by my other nickname sometimes, too: Mousey, because I love cheese.
As in, money? Or dairy? Both. But in this case, I mean actual cheese.
I see. What do you do? I'm a fashion designer, celebrity stylist and artist developer. I love designing clothes and creating new trends. My line is called Armu Premier Couture.
Okay, for real now: Are you just another superficial fashion-world person? I mean, I don't think I am. I only want to help people achieve their goals. So if a new artist wants to meet influential people, I design a piece that helps them stand out. The first question always is, what are you wearing? And then, what do you do? I help people network through fashion. But I don't always sound so confident. Some days I ask my team, "Why am I doing this?"
And they say? "Because you believe urban fashion needs to change." Everything involves guns, skulls, gangs.... It's very violence-driven. No color. Without color and variation, the urban world is a dark and dingy place. Why not throw a little pastel in there? Colors have a weird effect on the mind.
More from Star
"I've got it all planned. I know what we're gonna launch with, who we're gonna launch with.... And you'll be the first to print this: Armu Couture is going to be a female urban couture line."
"I grew up in Washington Heights. I got picked on because I wasn't Dominican, but at the same time it made me more of an individual. And I'm very understanding of people of different ethnicities. You just gotta live with each other. It's a big planet."
Star says: "I always tell my younger cousins, 'Don't ever settle. If you want to be great, be great. It's within your means.' My mom came from Nigeria in 1976 and her story is one of an immigrant who worked her way to her own success. I had two older brothers and a sister, and she paid for us to go through Catholic school. She worked at Chemical Bank and then she went back to school and got her degree. So there's nothing you can't do."
—Kate Lowenstein