Brian Nyilas, 28, and Megan Semeniuk, 20
Mulberry Street between Prince and Spring Streets
By Time Out editors Thu Jun 8 2006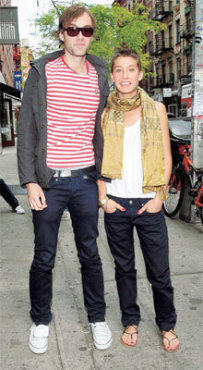 Brian Nyilas, 28; Megan Semeniuk, 20 Photograph by Donald Bowers
OCCUPATION: Brian: sales consultant (a.k.a. "brand pimp") for Brand Pimps and Media Whores. Megan: salesperson at the Tsubi store.
THE LOOK: "I like to wear the basics with a rocker twist," says Brian; "I just throw things together." "Comfort comes before fashion,"adds Megan.
Shade those baby blues with aviatorish glasses ($98) from Stssy, 140 Wooster St.
Keep the hoodie trend alive with a Nice Collective field jacket ($309) from Odin, 199 Lafayette St.
Achieve that Where's Waldo mystique with a striped tee ($40) from Proper Fools, 236 W 27th St.
Get the skinny on jeans for guys and gals at Tsubi ($232), 219 Mulberry St.
See what the buzz is about at Autonomy Salon (327 Lafayette St), where ladies' and gents' cuts go for $85.
Venture north and bring back a souvenir from the Metropolitan Museum Shop, 1000 Fifth Ave (scarves from $44).
Pad your Achilles' with Greek Flat sandals ($80) from Dolce Vita, 149 Ludlow St.
--Market Editor Kristina Dechter; Edited by Kate Lowenstein