Cartographer
We know that the world is round, but for this modern mapmaker there's still a whole lot more to discover.
By Jonathan Bender Thu Jan 29 2009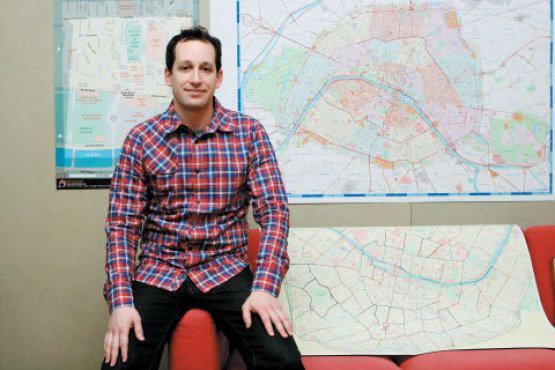 Photographs: (Cartographer portrait) Imogen Brown; (Cartographer map) Jonathan E. Levy
Who he is: A freelance cartographer, Jonathan E. Levy has designed maps for the Ted International conferences, and since 2006 he's charted neighborhoods from Seattle to Boston for the Not for Tourists series of guidebooks.
Starting out: In 2001, Levy was an intern for the Forest Service in Idaho, and they needed hand-drawn maps in the field to record the location of rare plants. But the North Carolina native wasn't hooked until they returned to camp and he saw the Geographic Information Systems (GIS) setup. "I didn't know people still made maps," says Levy, "and here was this amazing blend of technology, science and art in a visual medial element."
Finding skills: He honed his GIS abilities while earning a master's in geography from Hunter College in 2005. As an intern at the United Nations, he designed relief maps before discovering on Craigslist that Not for Tourists was looking for cartographers.
His process: Maps begin as data culled from ordinance or GIS-based surveys. That data is then compiled and divided by region—like the 150 individual neighborhood maps Levy designed for the Not for Tourists London guidebook.
Breaking in: Once you understand GIS and the concept of a legend, "just find something that is exciting to you and apply it to a map," says Levy, who found success and his style by working on maps that mirrored his interests: coffeehouses and jazz clubs.
Do mapmakers get lost? "Of course, everyone gets lost. But I usually don't get lost again. Actually there's something I like about getting lost, exploring and finding unexpected things," he says.
See more Inside jobs >>
---
Levy takes Manhattan
Levy created a map of his favorite spots in the city.
The nexus of all Starbucks in Manhattan (between Fifth and Sixth Aves, and 39th and 40th Sts) This spot (which happens to be just south of Bryant Park) is referred to by Levy as "the center of gravity. My friend (and artist) Cory Arcangel explains it like this: 'It means the exact place you can stand in Manhattan and be closest to all Starbucks—if every single Starbucks was pulling you equally in its direction. This is the place where you could stand to feel the most Starbucks power. Think of it as the North Pole for overpriced coffee.'"
World Martial Arts Center (69 W 14th St between Fifth and Sixth Aves; 212-941-8771, happykicks.com) Don't mess with the mapmaker: Levy trains in the martial art of hapkido here.
The Magician (118 Rivington St between Essex and Norfolk Sts, 212-673-7851) You might have heard Levy's band, the Stumblebum Brass Band, rock this venue with its high-energy jazz.
New Beef King (89 Bayard St between Mott and Mulberry Sts, 212-233-6612) Not for Tourists is based in Chinatown, and according to Levy, this is the place for Chinese-style beef jerky. "It's kinda sweet and wet."
Share your thoughts