Catherine Sawall, 35
W 39th St between Seventh and Eighth Aves.
By Kate Lowenstein Wed Oct 14 2009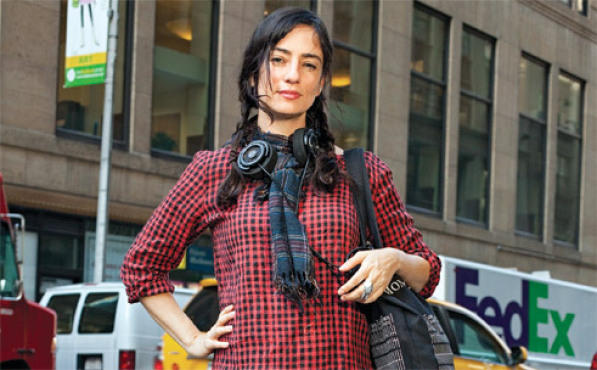 Photograph: Jay Muhlin
What are you up to? I'm on my way to work. I'm a creative director in interaction design at the digital advertising company R/GA.
Oh, I know that place. All I ever see going in and out of that building is good-looking men. There are a few, that's for sure. It's all about aesthetics. [Laughs]
So, interaction design? Yeah. I design digital experiences, usually under the guise of advertising. But it's almost like building products as opposed to doing advertising.
Do you ever have to make things for companies you don't believe in? Sometimes that happens. But the work is so interesting, it outweighs the ethical issues you might have—you almost forget, which is a terrible thing.
What are some R/GA projects we might know about? Nike+ is one that we did. It's a little device that goes in the Nike sneaker and is connected to your iPod. As you run, it can track the distance that you've gone.
Sounds great for New York. How long have you lived here? Five years. I'm from Wisconsin.
Have you come to see it as a flyover state? [Laughs] I've always considered it a flyover state. I constantly dreamed about Woody Allen and going to New York.
Woody Allen, huh? Was his depiction of the city accurate? No, not at all.
And was that disappointing? No, I don't think so. It's probably a good thing in the end. [Laughs]
More from Catherine
"I'm listening to the remake of 'A Forest' by the Cure. When I'm feeling a little dark, it's what I listen to on my way to work. I think I was inspired by my outfit—it goes with the whole gothy mode."
"I'm half Mexican. My mom made lots of tasty Mexican food, so I continue to do that. It's hard to find it out here, so that's why I have to make it myself."
"I live in Dumbo. My apartment is decorated with old French industrial furniture that I found in London. I'm really into a '30s-era thing: kind of old, cozy leather dad chairs. And I'm a big vintage freak. I really like the Number 6 store. It's a combination of Scandinavian design and vintage clothing. It's funny because my husband is Danish and I've always been into vintage stuff. It's kind of a funny combination that works pretty well."