Cory Mason, 25
Fatty Crab restaurant, 642 Hudson St
By Time Out editors Thu Jul 20 2006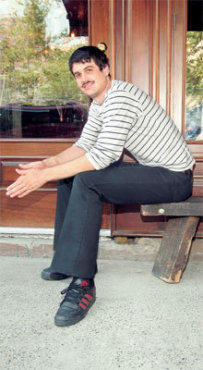 Cory Mason Photograph by Donald Bowers
THE LOOK: "What I pick off the floor in the morning. You know, dark enough not to look dirty."
OCCUPATION: Owner and manager of Fatty Crab
TWENTY-FIVE YEARS OLD AND YOU ALREADY OWN THE PLACE? "Yeah. I opened it about a year ago. A friend of mine who's a chef gave me an empty space and told me I could make a restaurant of it. We also opened Chicken Bone together, and I helped open the restaurant 5 Ninth, around the corner from here."
IS THE RESTAURANT BIZ YOUR CALLING? "No way. It's just kind of what I fell into. I came to New York to do other things. I've been running an underground art/music venue in Bushwick called Asterisk Art Project."
SO YOU SEE YOURSELF IN THE ARTS? "I don't know. I was kind of thinking about being a paramedic, actually. But that's a long-term goal. I mean, who doesn't want to save lives, right?"
"This is a twisted and waxed handlebar mustache. I grew it out of spite for an ex-girlfriend. For a while it was really crappy and she wanted me to shave it. So after we broke up, I decided, 'Fuck you, I'm gonna make a really good mustache out of it.' For a long time I used hair pomade to twist it, but what works much better is a glue stick. It actually stays, and you can keep it in your pocket."
Apparently, 'staches are back. Get the necessary product at staples.com, where nontoxic glue sticks are $1.49 each.
--Market editor Kristina Dechter, edited by Kate Lowenstein