Courtney Raniszewski, 20
Mulberry St between Jersey and Prince Sts
By Time Out editors Thu Jun 19 2008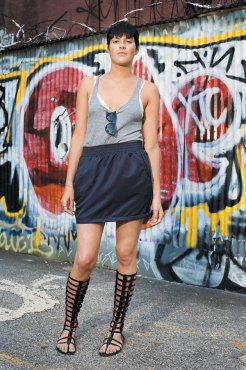 Courtney Raniszewski
Photographby Jay Muhlin
You look like you just stepped off of an American Apparel billboard. [Laughs] I don't usually wear a lot of American Apparel, but today my whole outfit is from there.
Ha! I called it. What are you up to? I'm going to my job at an organic vegetarian restaurant called Counter. I work as an intern at Nylon magazine, too, so you caught me in the middle of my workday.
How does Nylon treat its free laborers? Everyone is young and laid-back. I do a lot of sample returns, assisting on photo shoots and organizing the closet.
Are you an aspiring fashion writer? I'm a fashion and design major at Pratt. After school, I'm gonna look for a job as a fashion assistant or freelance stylist.I'm also planning to do a small collection with a friend—a cruelty-free thing. Boyish clothes for girls.
Hemp ties and soy button-downs? [Laughs] That's a little crunchy. We want more of a sleek look, but no animal products.
What's the next hot trend? Black vinyl. I want to make body cages for my senior collection—like dresses, skirts and bustiers. But my school is geared to the masses: Avant-garde clothing isn't appreciated. It's tough when you have this great idea and it gets shafted for something common.
Oh, the plight of the visionary! Yeah, right? It's like no one appreciates your stuff till you're dead. Hopefully it won't take me that long.
More thoughts from Courtney
"I really like heavily tattooed guys with receding hairlines. The lead singer of Ceremony—it was love at first sight when we met. He was the first tattooed, receding-hairlined man in my life. I'm also into premature graying."
"I'm a Talking Heads--Neil Young kind of person. David Byrne would be my ultimate celebrity sighting next to, like, Selma Blair, who I think is painfully good-looking."
"I've learned that New York is pretty easy for getting into bars. I have an ID from my brother's girlfriend's best friend—she was the only person with black hair I knew in New York. I've been turned away only once in four years."
--Kate Lowenstein