Courtney Reed, 23
Amsterdam Ave between 64th and 65th Sts
By Time Out editors Thu Nov 22 2007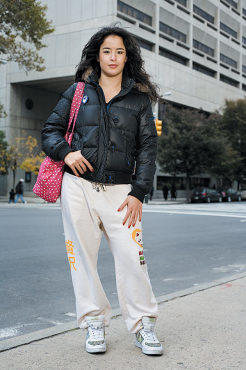 "I just did my nails, mostly because it's my day off. In the show we're not allowed to wear crazy colors like this."
Photograph: Jay Muhlin
What are you up to? I'm on my way to a hip-hop dance class.
Do they teach you that jiggly move that women do in music videos? Yeah, totally. [Laughs] The trick is to just, like, release your body and let certain parts go. It's one of my favorite things to do ever.
Where do you work? I'm a member of the ensemble in Mamma Mia!, and also an understudy for the character Ali. Today is my day off.
Ah, Broadway! So tomorrow will be a day off too? And the day after that and the day after that... Well, we have no idea know how long the strike will last.
Do you get those ABBA songs stuck in your head? Not really. But I was just eating at Subway, and they were playing "Dancing Queen."
They're trying to make it up to the poor tourists who won't get to see the show. I know! It's so sad. On the first night of the strike, I went out to [cabaret lounge] Don't Tell Mama and these tourists were saying, "We just want to see Mamma Mia! tonight!" I so badly wanted to tell them I was sorry.
Mamma Mia! is really upbeat. How can you be in such a good mood all the time? Our chemistry onstage is so fun that we can just pump each other up.
Well, aren't you just a big happy family! [Laughs] It sounds weird. Our contract even says we're required to pay for the next person's birthday cake.
That can't be good for your performance. I know! Especially for the guys, who have to be half-naked.
Half-naked men and cake. Sounds fun. Is making it to Broadway like striking gold? Yeah. It was crazy. I'd never been to New York, never seen a Broadway show, and then it was like, Boom! You're in it.

—Kate Lowenstein