Craft service
Swapping DUIs for DIY, local watering holes are offering arts and crafts alongside the usual beer and pretzels.
By Dan Avery and Erin Clements Thu Jan 4 2007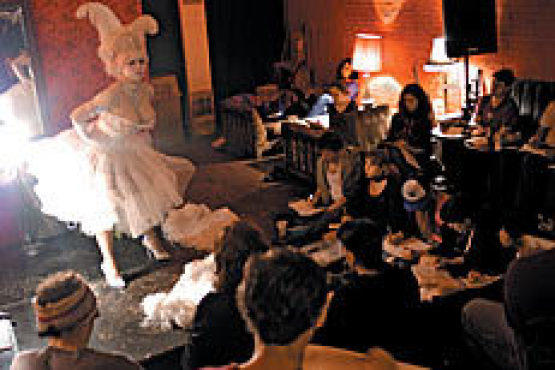 FIRST DRAFT Ecdysiasts serve as models in Dr. Sketchy's Anti-Art School. Photograph: Gary Winter
Booze and Yarn
FREE Luca Lounge, 220 Ave B between 13th and 14th Sts (212-674-9400, boozeandyarn.com).Subway: L to First Ave. Wed 10 7--10pm. R.S.V.P. to miss1932@gmail.com.Corinna Mantlo established this informal knitting class back in 2002 to attract guys and girls from different walks of life. "A lot of formal classes charge obscene amounts, and some were actually banning guys from enrolling," she says. "I wanted to keep the community-minded part of knitting alive." Mantlo, who has also held Booze and Yarn sessions in New Orleans, says alcohol helps relax newcomers to the weekly Wednesday gathering—and facilitate flirting—but that not all participants end up partaking: "Some people are so focused on getting the stitch right, they order a drink but don't take a sip all night." Knitters can bring their own tools or purchase a starter kit from Mantlo for just $20.
Diorama Lodge
FREE Freddy's, 485 Dean St at Sixth Ave, Prospect Heights, Brooklyn (718-622-7035, freddysbackroom.com). Subway: 2, 3 to Bergen St. Feb 6, 8--11pm.Want to relive the glory days of elementary school with a tequila chaser? The first Tuesday of every month, participants in Freddy's diorama night plumb their craft kits for foil, Popsicle sticks and other random materials to help nail the evening's theme, with the best display chosen by consensus. (Past prizes have included a glue gun and a bottle of vodka.) Don't get too out of control, though—just like kindergarten, participants are expected to clean up after themselves.
Dr. Sketchy's Anti-Art School
The Lucky Cat, 245 Grand St between Driggs Ave and Roebling St, Williamsburg, Brooklyn (718-782-0437, drsketchy.com). Subway: L to Bedford Ave. Sat 6 at 3pm, $10.You won't find any wax fruit at Molly Crabapple's biweekly drawing class, in which comely burlesque queens pose for amateur Da Vincis. Patrons compete for honors such as Best Left-Handed Drawing, with winners treated to an appropriate drink (a shot of Chartreuse, say, for a green-haired model). Ever the trooper, Crabapple has occasionally stepped in when things have gone awry: "Once a famous model never showed up," she recalls. "I had to run home to get a sparkly bikini and pose myself." We have faith that this Saturday's model, Little Brooklyn, will appear as promised.
PAINTStain
FREE Stain Bar, 766 Grand St at Humboldt St, Williamsburg, Brooklyn (718-387-7840, stainbar.com). Subway: L to Grand St. Mon 8 5pm--close. The idea for this weekly crafts night came to Krista Madsen when she first opened Stain Bar in 2004. "My friends were coming in to help decorate anyway, so I decided to make it a regular thing." Like the kitschy Williamsburg club it's held in, PAINTStain is a rather casual affair. Each Monday, Madsen offers free paints, fabrics and other gems from her box of goodies, or patrons can bring in their own projects to work on. "A lot of people leave me what they make," she says. "I should have a show devoted to former crafters." If you want to ensure your work has a permanent home, ask to add to the sprawling mural in the bar's back garden.