Curtsy, 48
Eighth Ave at 47th St
By Time Out editors Thu May 3 2007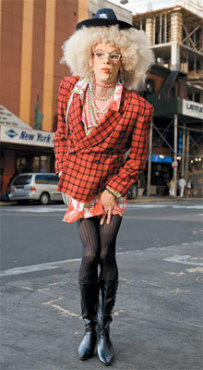 Curtsy Photograph by Jay Muhlin
"I was just at Goodwill. I was like, I want something a little businessy to update my look. And sure enough, there was this businessy clown suit! The hat I stole from a go-go boy who was staying with me. Well, I didn't really steal it. It was just a left-behind sort of thing."
What are you up to? I'm on my way to Jimmy's 43 to perform in a show called Ranch Hands Are People Too.
Awesome. What part do you play? I'm the Ranch Hag. It's a Texan story: I'm a Republican.
I can tell by the Barbara Bush hair. Who else is in it? The Bush twins, their body guard—he's hot—and Rumpleforeskin. The next show is on May 8th at Jimmy's.
Ranch Hag by night; what are you by day? A sculptor. I have a piece in a beautiful show at Victory Hall in Jersey City right now. The show is based on 99-cent stores.
What's your medium? Tape and glue.
99-store-appropriate. Is it conceptual? I like to call myself a drag conceptual artist.
Where are you from? I grew up in a small town called Foxborough in Massachussetts, but I've lived in Times Square for 25 years.
So you're a pro at navigating crowds of tourists. Matinee days are rough. But after 9/11 there was not a soul in sight. I told myself I'd never, ever curse those tourists again. Mind you, I have, but...
Are you always dressed so fabulously? I usually just throw on whatever's lying on the floor. Drag is meant to transcend gender, and I was like, Why not transcend race too? So I do 'fros. And it's white 'cause I'm old.
You don't seem very old. Almost half a century!
And yet your legs would make any girl jealous. Aw, you're too kind. How do you keep them up to snuff? Tape and glue. The ass cheeks too: The tape goes all the way from the back of my ass up over my head and to my face. So I get a face lift and an ass lift all at once.—Kate Lowenstein