Cutest pet in NYC
Send us your photos. Your votes will decide.
By Time Out editors Thu Sep 20 2007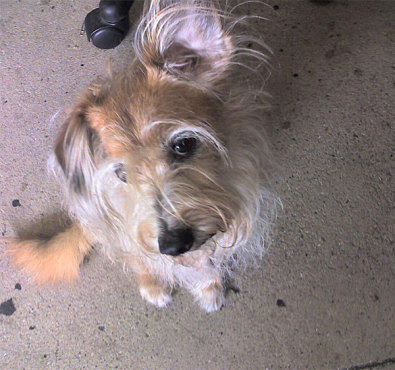 This dog is a friend of TONY who occasionally visits the office. Is yours cuter? Photo: David Cote
Time Out New York is holding a contest to determine the most adorable critters in the city (the domesticated ones—you can spare us your cute rat and pigeon shots). The selection process will run in two stages. First you'll send photos of your beloved dogs, cats or other companions to cutepets@timeoutny.com. We'll collect them from now until midnight on Oct 2, at which time we'll select a group of finalists and organize them into a voting bracket. (Bracket size will depend on the quality of entries.)
Starting Oct 3, you can visit timeoutnewyork.com/cutestpet and vote on which animals have the winning look. We'll advance the winners of each contest every week until we crown an overall champion. The brackets will be divided into three categories: dogs, cats and exotics (snakes, chinchillas and the like). If your pet wins, you will receive priceless bragging rights and perhaps a prize to be determined later.
A few final words on the photos you should send us:
The file size of your image should be between 1MB and 3MB (preferably in JPEG format). Especially large files will be bounced back by our email program.
You are welcome to send more than one image. Just make sure the total attachments in your email do not exceed 5MB in size.
Please include your name and the name of your pet.
Got that? Cool. Now send those photos in.