Dan Volpa, 20
39th St at Seventh Ave
By Time Out editors Wed Jul 4 2007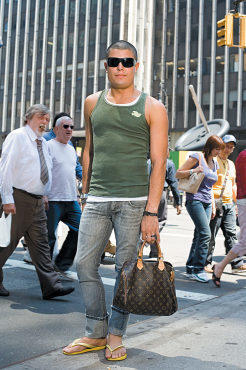 Dan Volpa
Photo: Jay Muhlin
"I always get the shiny-top Havaianas. I'm a shiny boy. I have these flip-flops in every color."
What do you do? I'm going to be a senior at NYU. I'm also an assistant to a children's fashion designer. We do a lot of Disney and Nickelodeon stuff.
Ever try to fit into the kids' clothes? I've squeezed myself into a couple, but size 5 is not really working out for me.
Mickey or Minnie? I actually really like the Disney princesses. Snow White has always been my favorite.
I prefer Ariel. She's pretty good too.
Speaking of kid stuff, I can't help but admire your sparkly nail polish. Thanks! I get them every week when I get my manicure and pedicure.
Do you do any other fun extracurriculars? Yeah—I'm a cheerleader.
As in, pom-poms and pyramids? The whole bit. All the money we raise goes to different charities. We do the AIDS Walk, the MS Walk, the Gay Pride Parade... It's a really cool organization called Cheer New York. All my friends are on the squad.
I bet you guys like Bring It On. Oh my God, we love it.
I'm going to wager that this is all just the tip of the fabulous iceberg. [Laughs] Yes. This is a pretty conservative outfit. I usually have booty shorts on and some brighter colors. I'm a pretty out-there kinda dresser. And the purse always throws people for a loop.
People freak out over the man purse? I get comments all the time. But I've got a lot of stuff, and I wear tight jeans, so the stuff's really not gonna fit in the pockets.
Tell me about it. Women know all about that tight-jeans problem. What's in the bag today? My cell phone, my iPod, three lip glosses, a mirror—no, two mirrors—and my wallet. A bunch of stuff that every person needs.
--Kate Lowenstein