David Henderson, 31
Union Square
By Time Out editors Thu Oct 26 2006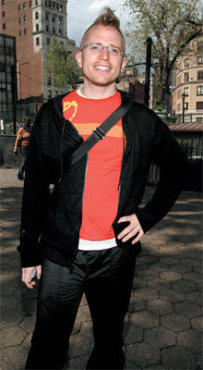 David Henderson Photograph by Donald Bowers
"I'd say my clothes are a little punk, a little edgy sometimes. I like to dress up occasionally, too. It's fun with the mohawk."
Stop stealing your ex's clothes and buy your own. H&M (hm.com) has men's tees from $10.
What are you up to? Nothing in particular, just hanging out.
What? You mean you're not rushing off somewhere? You must not be from the city. [Laughs] No, I'm from Rochester. I've been here for a year and a half.
Whereabouts do you live? Astoria.
Are you surrounded by invading hipster types? No, it's not too bad yet. My building is full of families.
What do you do? I'm a theater director. I like doing new plays and working with playwrights. But right now I'm not doing very much of anything.
How relaxing. Yeah, I'm feeling lucky at the moment.
So what do you do to fill your time? I've been doing some writing, a lot of reading and a lot of traipsing around the city.
What are you reading? A play called Something Cloudy, Something Clear by Tennessee Williams, and the Lord of the Rings trilogy.
Is there a particular kind of theater you're into? I like edgy theater, avant-garde stuff. I really like Ionesco. Things that challenge the audience in new ways.
So what do you tell people who are like, "I don't get it"? [Laughs] I tell them they have to keep asking themselves questions about the piece.
Any advice for struggling actors? Just keep hittin' the pavement. It's not easy...just go to as many auditions as possible.
I like your shirt. Where's it from? I got it from H&M. Well, actually, my ex-boyfriend did. It's his.
Uh-oh. Yeah, I hope he sees it.
'Cause it'll make him sad? I don't know what I want him to feel. I know he would want to be in this picture, though.
Poor guy. Geez. Let's change the subject. Nice mohawk.Thanks. My ex-boyfriend did it for me.
Oops. Maybe it'll make him sad to see that, too. [Laughs] Let's hope so. — Kate Lowenstein
Market editor Kristina Dechter