David Wong, 36
Delancey St between Ludlow and Orchard Sts
By Kate Lowenstein Wed Jun 11 2008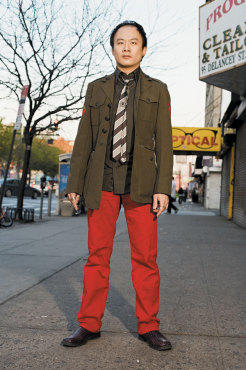 Photograph: Jay Muhlin
What do you do?
I work for a custom trimmings company.
Trimmings?
Like in interior design: curtain ties, piping, that stuff. We're trying to distinguish ourselves by having designer names on our trimmings.
Seriously? So people can be like, "The tassels on my rug are Calvin Klein"?
Exactly. Right now there's no branding in the field. We're trying to change that.
Man, some industries you just never think about.
I know! Most people don't even know there's such a thing as trimmings. Until the late '70s, it was mostly just housewives decorating friends' houses. Then gay culture made it legitimate by making a business out of every single aspect.
Are you saying it took men to make interior decorating a proper field?
Well...I guess. [Laughs]
You must be a real expert. Most dudes can't tell plaid from gingham.
I've learned a lot. My parents are in the fashion industry and used to train me when I was a kid. I always had a skateboard in one hand and Vogue or Bazaar in the other because my parents would test me. They only saw me once a month—their company operates in seven cities. I lived with the maid and my grandfather.
Poor little rich boy!
It wasn't that good, it wasn't that bad. But in all the cities I went to I never felt like I belonged. Then I came to New York for college, and by Christmas I knew it was going to be my home.
More thoughts from David
"The funnest summer festival I ever went to was Lollapalooza in the '90s. I got to meet Steve-O, the crazy guy from Jackass. [Laughs] I picked up an ant and told him to eat it. And he ate it!"
"I helped make a documentary in China about biological testing during WWII. It's pretty well known that the Nazis were doing it to the Jews, but it's not so well known that the Japanese were doing it to the Chinese."
"My dad spoke Cantonese to me, my mom spoke Mandarin, my grandfather spoke Japanese and my grandmother Taiwanese. On top of that, they sent me to British and American schools and had me learn French, German and Italian. I had the worst stuttering problem."