Day trips
The three-day Labor Day weekend is this summer's last hurrah. Make the most of it by escaping New York City for a few hours.
By Amy Plitt Wed Sep 2 2009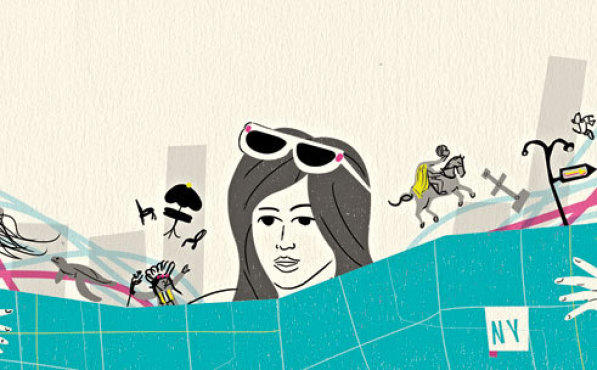 Photograph: Edward McGowan, colagene.com
South Norwalk, CT

About one hour from midtown
South Norwalk (SoNo to the locals) has the cultivated charm of a seaside town but lacks the crowds you'd normally find down the shore. Start at the Maritime Aquarium (10 North Water St; 203-652-0700, maritimeaquarium.org; daily 10am--6pm; $9.75--$22.50), which examines the ecology of the nearby Long Island Sound, home to species both small (turtles and jellyfish) and terrifying (sharks!). Through Monday 7, get up close and personal with the black-and-white birds during the aquarium's "Penguins on the Loose" program (1:15pm, free with museum admission). Animals from the "African Penguins" exhibit will be brought into a special play area, where visitors can observe their actions, point, coo and pine. You may be tempted to hug one of these frosty fowl, but under these museumlike conditions, touching isn't allowed. Next, grab a "down east" Maine lobster roll ($18.95) at the SoNo Brewhouse (13 Marshall St, 203-853-9110), and be sure to leave room for treats from famed chocolatier Fritz Knipschildt's flagship caf, Chocopologie (12 S Main St, 203-854-4754). "It has all the charm of a patisserie in France with a fraction of the snoot," says Norwalk resident Rachel Matz. And no visit to this quaint Connecticut town would be complete without a stop at Sassafras (132 Washington St, 203-838-2499), a popular local shop that sells accessories and tchotchkes for your home. Travel: Metro-North's New Haven line to South Norwalk. Off-peak $4.75--$19.50, peak hours $6.18--$26.
Sleepy Hollow, NY

About one hour from midtown
Halloween is still a few weeks off, but those seeking a spooky experience posthaste can find it in Sleepy Hollow, New York. Immortalized in Washington Irving's story (and later Tim Burton's film) about the murderous Headless Horseman, Sleepy Hollow is proud of its exceptionally creepy lore (to wit: Sleepy Hollow High School's athletics team is the Horsemen). The Sleepy Hollow Cemetery (540 N Broadway; 914-631-0081, sleepyhollowcemetery.org; free) is open daily from 8:30am to 4pm, giving day-trippers plenty of time to explore the 90-acre grounds. You'll find almost as many famous New Yorkers there as at Brooklyn's famed Green-Wood: Take your own self-guided tour (free maps are available), and look out for the graves of Elizabeth Arden, Brook Astor and, yes, Irving himself. If you prefer something a little darker, the cemetery offers an after-hours tour of its grounds on Saturday 5 (7--9pm; $20, advance reservations required); its historian, Jim Logan, will share tidbits about the grounds and the folks interred there. Nearby Philipsburg Manor (381 N Broadway; 914-631-8200, hudsonvalley.org; Mon, Wed--Sun 10am--6pm; $6--$12) offers its own kickoff for fall from Saturday 5 to Monday 7: Its Green Corn Festival (10am--6pm, free with museum admission) will honor the Native American tradition and culture of the Hudson River Valley through dances by the Red Hawk Dance Troupe and others, plus demonstrations on making a bow and arrow, and open-hearth cooking. Travel: Metro-North's Hudson line to Philipse Manor. Off-peak $3.80--$16.50, peak hours $5.23--$22.50.
Hoboken, NJ

About 15 mins from midtown
Teeny Hoboken comprises only one square mile of land, which makes it easy to traverse on foot—and thus, perfect for a day trip. "There are so many mom-and-pop shops here, it feels like people really know you," says Carly Baldwin, a writer for local news website Hoboken Now. "And there's always lots of gossip going around—especially after the mayor got himself arrested!" Your first stop should be the strip of parks that dot the city's waterfront along Sinatra Drive (yes, like Frank—he's a Hoboken native), for unparalleled views of the Manhattan skyline and excellent people-watching (particularly Pier A at its southern tip, where you can ogle comely sunbathers). The city's main drag, Washington Street, is just a few blocks from the water, and is chock-full of bars, restaurants and shopping options; stop into Tunes (225 Washington St, 201-653-3355) for new and used CDs, DVDs and LPs starting at $1, or hit up local hangout Louise & Jerry's (329 Washington St, 201-656-9698) to throw a few back (be sure to play a song or two on their jukebox). Baldwin recommends hungry travelers pop into Fiore House of Quality (414 Adams St, 201-659-1655) for a sandwich stacked with mozzarella (call it "mutz" to sound like a local), prosciutto and roasted red peppers (half $6.50, whole $13). "I will challenge anyone who thinks Arthur Avenue, Middle Village, Little Italy or anywhere else in New York City can come up with anything better," she says. "It will make you want to move to Jersey." And if not, well, the shop's just a train ride away. Travel: PATH train to Hoboken. $1.75.