December 2013 events calendar for New York City
Plan your month with our events calendar of the very best activities, including Christmas, Hanukkah and New Year's Eve events, plus the best free things to do.
Get in the holiday spirit early with our events calendar for December: We've got the details on the best Christmas, Hanukkah and New Year's Eve events, plus a look at upcoming arts, theater and music events.
---
More events in December 2013
New York Cares Coat Drive
Looked at from a certain angle, at least, this city appears more prosperous than ever. But peer beneath the surface and you'll still find a lot of hardship out there. That's where New York Cares comes into play. For 25 years, this charitable event has provided winter outerwear for the city's thousands of homeless and working poor, who need a warm coat to make it through the winter. You can donate a jacket at a public collection site, or start a team to drum up support in your community. 646-801-4022, newyorkcares.org.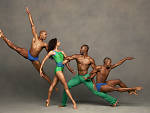 Price band: 2/4
Critics choice
The troupe explores a diversified repertory for its City Center season. Highlights include a new work by Aszure Barton, the Ailey premiere of Wayne McGregor's Chroma, Bill T. Jones's D-Man in the Waters (Part I) and Ronald K. Brown's Four Corners. The run—which celebrates Matthew Rushing tenure with the company—also includes restagings of Alvin Ailey's Duke Ellington–inspired pieces The River and Pas de Duke.
Price band: 3/4
Critics choice
Just what you need to make it through the harsh winter: shopping, booze and some good ol' holiday cheer. This two-day bazaar will offer giftable jewelry, apparel, accessories and home goods—all by local designers—along with a gift-wrapping station manned by Brooklyn wallpaper design company Flat Vernacular. Grab a beer from the cash bar and browse through exclusive goods like Project Room metallic leather tangram coasters ($65), Brvtvs gold ball-chain thread earrings ($210) and GREI. Donegal knit fingerless gloves ($75). The goods are typically made in small batches, so snag 'em while you have the chance.
Price band: 3/4
Critics choice
The most talented of the Wayans-brother multitude (at least in our humble opinion) brings his stand-up act to Carolines. As with many no-longer-young comics, his material now focuses on the vagaries of family and parenting, but he's still essentially the same guy we fell in love with on In Living Color. And if you look closely, you can still make out the fluffy wig, bulbous red nose and loaded sock of Homey D. Clown.
Price band: 2/4
Critics choice
Dave Eggers's literary journal has survived and even thrived in an era generally considered hostile to the printed word. Although it has featured such notable authors as Michael Chabon and Joyce Carol Oates, McSweeney's still sticks to its original premise of publishing only works that have been rejected elsewhere, and has never lost the sense of playful outsiderdom that has defined it since its inception. At this 15th-anniversary event, contributors including Jonathan Ames and Sheila Heti will participate in readings and discussions.
Price band: 2/4
Critics choice
The psych-rock outfit returns home to Brooklyn after crisscrossing the country in support of its self-titled third album. The band's music has gotten grungier and weirder since the platinum-certified days of "Kids," but the spectacle in its live shows has held strong, promising the kind of strangeness you don't often see in an arena setting. If that's not enough to sell you, we'll point out that the openers—Dinosaur Jr., godfathers of lo-fi rock—are worth the price of admission in their own right.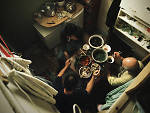 Price band: 1/4
Critics choice
Frequent New York Times photographer Annie Ling's pictures of the neighborhood are an entry point into the often insular world of Chinatown, documenting the lives and struggles of the people who live there. This exhibition includes four collections, including "81 Bowery," a series of images Ling took inside a modern-day flophouse where residents pay between $100 and $200 a month for cubicles not much larger than their mattresses.
Price band: 2/4
Critics choice
The renowned Austrian puppet troupe celebrates its 100th anniversary this year with a visit to the Met Museum, where expert puppeteers will breathe life into a host of beautifully carved wooden marionettes. Check out their imaginative takes on the White Rabbit, the Mad Hatter and the Queen of Hearts in Alice in Wonderland (Dec 14, 15), or gawk at miniature versions of operatic giants and flying horses in an abbreviated rendition of Wagner's sprawling Ring cycle (Dec 13, 14).
This trippy musical performance piece, dreamed up by composer Phil Kline, is downtown's decidedly arty, secular answer to Christmas caroling. Boom-box-toting participants gather under the Washington Square Arch, where they are given a cassette or CD of one of four different atmospheric tracks; you can also download the Unsilent Night app and sync up via smartphone. Everyone then presses play at the same time and marches through the streets of New York together, blending their music and filling the air with a beautiful, echoing 45-minute piece. Those without speakers are invited to join in, too.
If David Lynch and Douglas Adams built a town together and then left it to its own devices, it would probably look something like Night Vale, the fictional community that's the subject of this faux public-radio show. Two-headed quarterbacks, haunted dog parks… You'll find everything but the demon-possessed kitchen sink in this eccentric, chart-topping podcast. This live session will feature Night Vale's velvet-voiced announcer, Cecil Baldwin; its resident band, Disparition; and a special appearance from former child actor Mara Wilson as the Faceless Old Woman Who Lives in Your Home.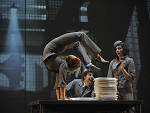 This contemporary-circus troupe from Montreal brings its latest show to NYC, performing classic acrobatics and tightly choreographed dance numbers against a backdrop of original video projections. Expect jugglers, contortionists and Cyr-wheel artists in pieces inspired by the struggle to escape a soul-crushing industrialized city. If that hits a little too close to home, rest assured: At least onstage, humanity wins in the end.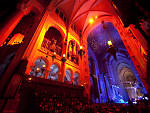 Price band: 2/4
Critics choice
Having trouble deciding which one of your friends' apartments will be used to host this year's solstice bonfire and ritual sacrifice? Avoid all that messy virgin blood and try a more modern tradition: Paul Winter's annual concert, returning for its 34th year. You can see African-inspired dancing and drumming from the Forces of Nature Dance Theatre as well as the WSC standbys: Brazilian guitarist Renato Braz, and the Paul Winter Consort with Winter himself on sax.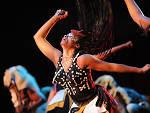 Price band: 1/4
Critics choice
Radio personality, poet and songwriter Imhotep Gary Byrd hosts this annual Kwanzaa showcase of music, poetry and dance. This year's roster includes multi-instrumentalist Michael C. Wimberly, rapper F the Elemental and kora player Yacouba Sissoko, along with Abdel Salaam's Forces of Nature Dance Theatre. The highlight is likely to be the Rite of Nation Building ceremony, in which community members join artists to erect a structure onstage, symbolizing societal rebirth through the passage of knowledge from elder to child.
Apollo Theater 253 W 125th St, between Adam Clayton Powell Jr. Blvd (Seventh Ave) and Frederick Douglass Blvd (Eighth Ave)
Fri Dec 27
More info
---
You might also like
---
Users say
i would like to go to new york city. for christmas.me and my family.. would like to go and have some fun.