Devohn Walker, 18
Broome St between Essex and Ludlow Sts
By Time Out editors Thu May 29 2008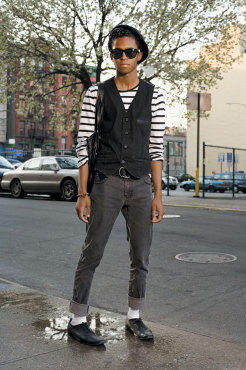 Devohn Walker
Photograph: Jay Muhlin
What do you do? I came to New York a year ago to make it as a professional model.
So have you made it yet? My dream is coming true. Like, oh my gosh, yesterday I was in Soho at these events—everyone was there, even people from America's Next Top Model—and all these photographers wanted to take my picture. I was the star of the night.
Do you ever feel like modeling reduces you to just a face and an outfit? No. It's about expressing yourself. There aren't many African-American people in big fashion magazines. I want to be the male Chanel Iman.
Is it fame or money that appeals to you? I don't want to be famous...[Editor's note: The average amount a professional male model makes for a day's work is $3,000-$5,000. The average female model makes $15,000--$20,000.]
But you liked the flashbulbs last night. That was about confidence, not fame. I'm looking to be financially successful.
Models tend to be a million feet tall. Is your height an issue? No. I do print, not runway. Though I do catwalk better than the people who are six foot. I learned—don't laugh—watching Naomi Campbell on TV growing up in Arkansas.
Arkansas? Not a haven for catwalkers, I bet. No. I was an outcast for being different—it was depressing. I had to leave.
What did New York look like to an Arkansawyer? Very, very big. And fast. I couldn't stop wowing. I got here and was like, I'm just gonna act like I know what I'm doing, like I know where I'm going, like I've been here my whole life. And it worked!
More thoughts from Devohn
"I've wanted to model since I was three years old. I remember putting on my mom's heels—she used to model, too—and walking around being like, I am gonna be a star."
"I'm mad The Sartorialist hasn't found me yet: I'm the most fashionable person in New York. I walk the streets, I talk the streets, I eat the streets, and still nothing! I need to let him know he's not doing his job."
"I work at the H&M on Fifth Avenue and 51st Street. People do not put their clothes back on the hangers. It makes me upset sometimes: I'm like, I am looking so fabulous, and here I am folding people's clothes. I mean, honestly."
--Kate Lowenstein