Dogs in bars
We sniffed out the pet-friendliest bars during these dog days of winter.
By Alexis Tirado Thu Jan 22 2009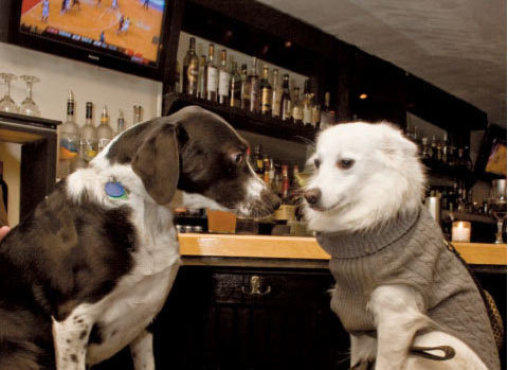 Photograph: Beth Levendis
Date: August 23, 2008 1:50:57 PM EDT
To: inyc@timeoutny.com
Subject: Dogs
Are there any good places where can I drink with my Siberian husky dog? Both she and I are getting bored of staying at home.
Serena, Soho

You'll feel the puppy love when you spot the dogs welcome sign outside the bar. "Some of the regular dogs even recognize each other," says one bartender. The low lighting, long windows and red walls provide a comfy vibe for your pup. However, it's best to bring your pooch on weekdays since the weekends get slammed with drunk patrons who flock to the impressive beer list. 280 Smith St at Sackett St, Carroll Gardens, Brooklyn (718-222-1103, bargreatharry.com)

"Sometimes you'll see ten dogs during the weekend," says Patrick Fondiller, 43, manager of the Gate and proud owner of three dogs. "Our only rule is that they have to be on leashes." There are 24 draft beers on offer, and you can spot a dog-treat jar on the bar named after Gus, a beloved white dog that recently passed away. 321 Fifth Ave at 3rd St, Park Slope, Brooklyn (718-768-4329, thegatebrooklyn.blogspot.com)

The Grand Bar and Lounge (where dogs are allowed) looks like a room straight out of Clue—there are plush houndstooth sofas, regal curtains and inviting leather chairs, but no lethal candlesticks (yet). "We give priority to dogs; they're like celebrities," says JD Daly, a manager. 310 West Broadway between Canal and Grand Sts (212-965-3000, sohogrand.com)

Of the same breed: Two blocks away, Tribeca Grand Hotel (2 Sixth Ave between Walker and White Sts; 212-519-6600, tribecagrand.com) has a lounge area that gives the five-star doggie treatment, too. Hartz Mountain Industries, the company that owns both hotels, also used to manufacture more than 1,500 pet products, which explains their soft spot for Fido.

Contrary to popular belief, Tom & Jerry's is not named after the cat-and-mouse cartoon. "It's named after the Christmas drink," says co-owner Jo Janes, but pets are nevertheless welcome 365 days a year. If you're looking to watch a big game or Obama's next speech, there's a large projector screen in the back. They also serve hot chocolate with the liquor of your choice. 288 Elizabeth St at Houston St (212-260-5045)

"Every time a neighborhood dog passes by, they want to come inside, because they know we'll give them treats," says co-owner Ray Deter. The East Village establishment is such a hit with dog owners that participants from last year's Dachshund Oktoberfest (a boozy hot-dog party) hosted an after-party there. For human guests, they offer 300 bottles and 16 beers on tap. 41 First Ave between 2nd and 3rd Sts (212-475-5097, drinkgoodstuff.com)
Of the same breed: The bar has a dog-friendly Brooklyn outpost, too. 113 North 7th St between Berry St and Wythe Ave, Williamsburg, Brooklyn (718-218-6006)
Gutter

This eight-lane bowling alley and bar embraces the That '70s Show vibe with stained-glass beer-brand lamps, wood paneling and kitschy wall decor. Though dogs are not allowed in the bowling alley (too many pups fetching pins, maybe?) you can chill with your pooch in the spacious bar area. Bartenders sell beef jerky and you might stumble upon a BARC (Brooklyn Animal Resource Coalition) meeting. 200 North 14th St between Berry St and Wythe Ave, Greenpoint, Brooklyn (718-387-3585, thegutterbrooklyn.com)

Of the same breed: Gutter's nearby big-brother bar, Barcade (388 Union Ave between Ainslie and Powers Sts, Williamsburg, Brooklyn; 718-302-6464, barcadebrooklyn.com), has 30 arcade games and nothing but love for dogs, too.
See more You asked for it