Dray Ebony, 43
E 125th St between Park and Lexington Aves
By Time Out editors Thu Jan 3 2008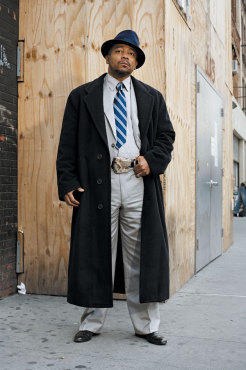 Photograph: Jay Muhlin
Ebony, huh?
It's a stage name. I participate in the ballroom community. It's like a fraternity or a gang. We compete in teams at an event called the Ball, in categories like Best-Dressed Man, Best Body...
Best Belt?
[Laughs] No, but they have a category for Best Footwear. I've reached legendary status within the Best-Dressed Man category.
I'm not surprised. So what do you do when you're not strutting your stuff?
I work in HIV and AIDS prevention at an organization called FACES NY [Forging Ahead for Community Empowerment and Support], and I do HIV testing with a group called GMAD [Gay Men of African Descent]. I also have a model-management company, and I manage male and female strippers.
Wow, many hats.
Yeah, but they all work together. FACES found me because they wanted attention—AIDS, as a pandemic, is not getting no better—and I provide strippers for safer-sex commercials.
Do you ever fall in love with your clients?
Never. If I was selling candy I couldn't eat it, right?
Good point. Do you think stripping is demeaning?
We should be calling them exotic dancers, not strippers, because I deal with the art of it rather than the nakedness.
Okay, tell me about the art of stripping.
It's being sexy to the imagination, rather than being out-and-out nekkid.
And, so...demeaning or not?
Whether it's demeaning has to do with how the person feels about it. I'm not judgmental like that. Whatever a person feels comfortable doing has nothing to do with me.
—Kate Lowenstein