Ed DuRant, 41
7th St and First Ave
By Time Out editors Thu Mar 27 2008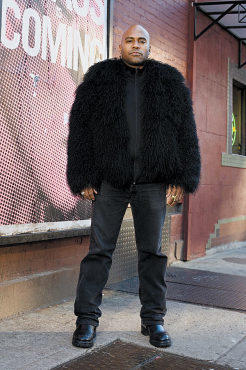 Ed DuRant
Photograph: Jay Muhlin
Can we take your picture for the magazine? [Laughs] This is too funny. My brother has been going around with this homburg hat and pipe, and I've been telling him he's gonna get into Time Out because of it.
I don't think I'd notice any hat within ten feet of your jacket. It's Mongolian monkey.
Sure it is. I am dead serious! My ex-girlfriend got it years ago as a gift from her mother. She wouldn't wear it, so I took it.
What do you do? I'm a filmmaker. I just finished my first feature, Jake Gets Paid. It's a black black comedy. It's about a woman who, after discovering that her boyfriend is having an affair, decides to give him a surprise party. She invites the mistress, Jake's parents, the friends. Everyone knows this party shouldn't happen, yet they all come because they all love Jake. I just sent it to Cannes.
Anything autobiographical about the plot? Well, you know. These things happen.
Monogamy is not a natural human inclination. [Laughs] You said it, not me.
[Editor's note: Wikipedia lists 16 different forms of non monogamy.]
Does the girl with the monkey jacket play into this? Um, no comment? All my scripts are inspired by things in my life that hurt or were great. It took me three years to get this one right—mostly because it took so long to be truthful with myself.
Black black comedy is a catchy term. Do you think other people will start using it to describe their work? That'd be great. As long as they give me credit.
More thoughts from Ed
"I want to see Passing Strange. The show is political and deals with race and sex and so many other things that I deal with in my own work."
"I worked for Ed Koch at City Hall for awhile. Eventually, I was like, Why am I doing this? I'm an artist. So I quit and started Talking Drum Theater Company. Then I started a hip-hop rock band. Then I applied to NYU's film program and they gave me a full scholarship. How did I fit all that in? I did a lot of cocaine."
"The ring and bracelet were my dad's. When he died I put all his jewelry in a box because I didn't feel like I was man enough to wear it. Then at a certain point in my life, I was like, You know what? I'm ready now. Our dad had a lot of style—he was a painter, very much a dandy. That's why the brothers DuRant roll with whatever we feel like wearing. [Laughs]"
—Kate Lowenstein