Emilie Laperriere, 19
Ludlow St between Broome and Delancey Sts
By Time Out editors Tue Jun 2 2009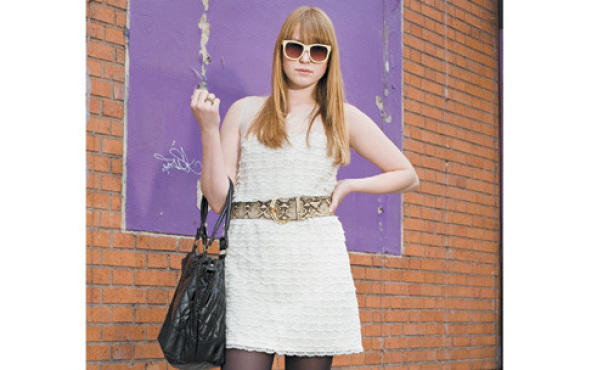 Emilie Laperriere, 19
Photograph: Jay Muhlin
What do you do? I'm at FIT. I just moved out of student housing and into an apartment last week.
Congratulations—your first place ever? Yeah, it's fantastic. It was a gut renovation in the East Village.
Most adult New Yorkers can't afford the East Village. How does a 19-year-old do it? [Laughs] Um, parents? I work at American Apparel, so I contribute a little, but I could never afford it on my own.
American Apparel—how's that? It's not bad. We get free clothes and really good discounts.
And you don't have to sleep with Dov Charney in order to get them? [Laughs] No. Though he actually interviewed me for the job.
Nice. Do people come on to you because of the sexual vibe of the store? Not at all. More people are repulsed by it than enamored. There's a lot of bad press surrounding American Apparel, but I think that's B.S.: I'm sick of seeing skinny girls and perfect bodies—that's not what women are supposed to look like. So when they're glorified, not objectified, I really appreciate that.
It's not the bodies that repulse people so much as the compromising positions. Oh no, I understand that. But I don't see it that way. I see the women as being themselves and being beautiful, and the fact that they're in those sexy positions just adds to the photos, you know?
But you have to be pretty damn skinny to pull off a gold lam unitard, don't you think? [Laughs] I suppose, yeah!
More from Emilie
"My major is advertising and marketing. Honestly, I always wanted to be a writer, but you can't really make money that way these days."
"I also work at Teen Vogue. They do a great job there. If I was still young enough to read it—well, I do read it, but to ooze over it—I totally would."
"I was born in Montreal, so I grew up speaking French with my family. In '94 or '95 we moved to Savannah, Georgia, and then to Boston because my mom went to Harvard, and then to Florida, and then we moved to Aspen, Colorado, for a year because my dad wanted to learn how to snowboard—at the age of 55. I really like it in New York. You get a piece of everything here. I can't really see myself anywhere else."
—Kate Lowenstein